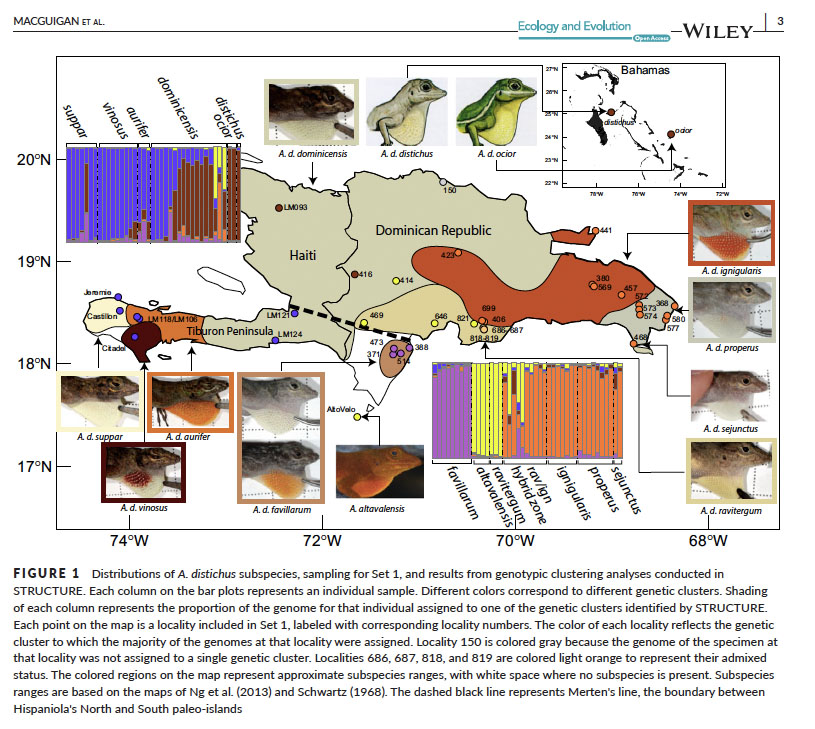 The latest work on genetic differentiation and species status within the Anolis distichus group has just been published by MacGuigan, Geneva and Glor in Ecology and Evolution. In line with previous work from the Glor lab, the study finds evidence for seven distinct evolutionary lineages worthy of recognition as species, and further finds that variation in dewlap color in some cases does not correlate with geographic isolation. Finally, geographic isolation seems to play a key role in genetic divergence.
Here's the abstract, followed by a few comments:
Abstract
Delimiting young species is one of the great challenges of systematic biology, particularly when the species in question exhibit little morphological divergence. Anolis distichus, a trunk anole with more than a dozen subspecies that are defined primarily by dewlap color, may actually represent several independent evolutionary lineages. To test this, we utilized amplified fragment length polymorphisms (AFLP) genome scans and genetic clustering analyses in conjunction with a coalescent-based species delimitation method. We examined a geographically widespread set of samples and two heavily sampled hybrid zones. We find that genetic divergence is associated with a major biogeographic barrier, the Hispaniolan paleo-island boundary, but not with dewlap color. Additionally, we find support for hypotheses regarding colonization of two Hispaniolan satellite islands and the Bahamas from mainland Hispaniola. Our results show that A. distichus is composed of seven distinct evolutionary lineages still experiencing a limited degree of gene flow. We suggest that A. distichus merits taxonomic revision, but that dewlap color cannot be relied upon as the primary diagnostic character.
The authors suggest that there are at least seven species within the distichus complex, but they suggest that it is premature to recognize them officially at this time. Nonetheless, Poe et al. in their recent Systematic Biology paper (hey! who's going to write a post on this one?) recognize at least some of these taxa as distinct species.
Finally, I do have one tiny bone to pick. The authors state:
"Together these results suggest that dewlap color is not by itself a reliable diagnostic trait in the A. distichus complex, and perhaps in anoles more broadly."
I take umbrage with the final statement, "and perhaps in anoles more broadly." The distichus complex has always been recognized as the major exception to the idea that dewlap color variation relates to reproductive isolation. Consequently, demonstrating what has been suggested—with some evidence—for 40 years doesn't necessarily argue against the role of the dewlap in reproductive isolation more generally. Now, you may quibble with the data underlying this general proposition, and it certainly is worthy of further study, but the results of this study confirm what was already recognized as an exception to this general rule..