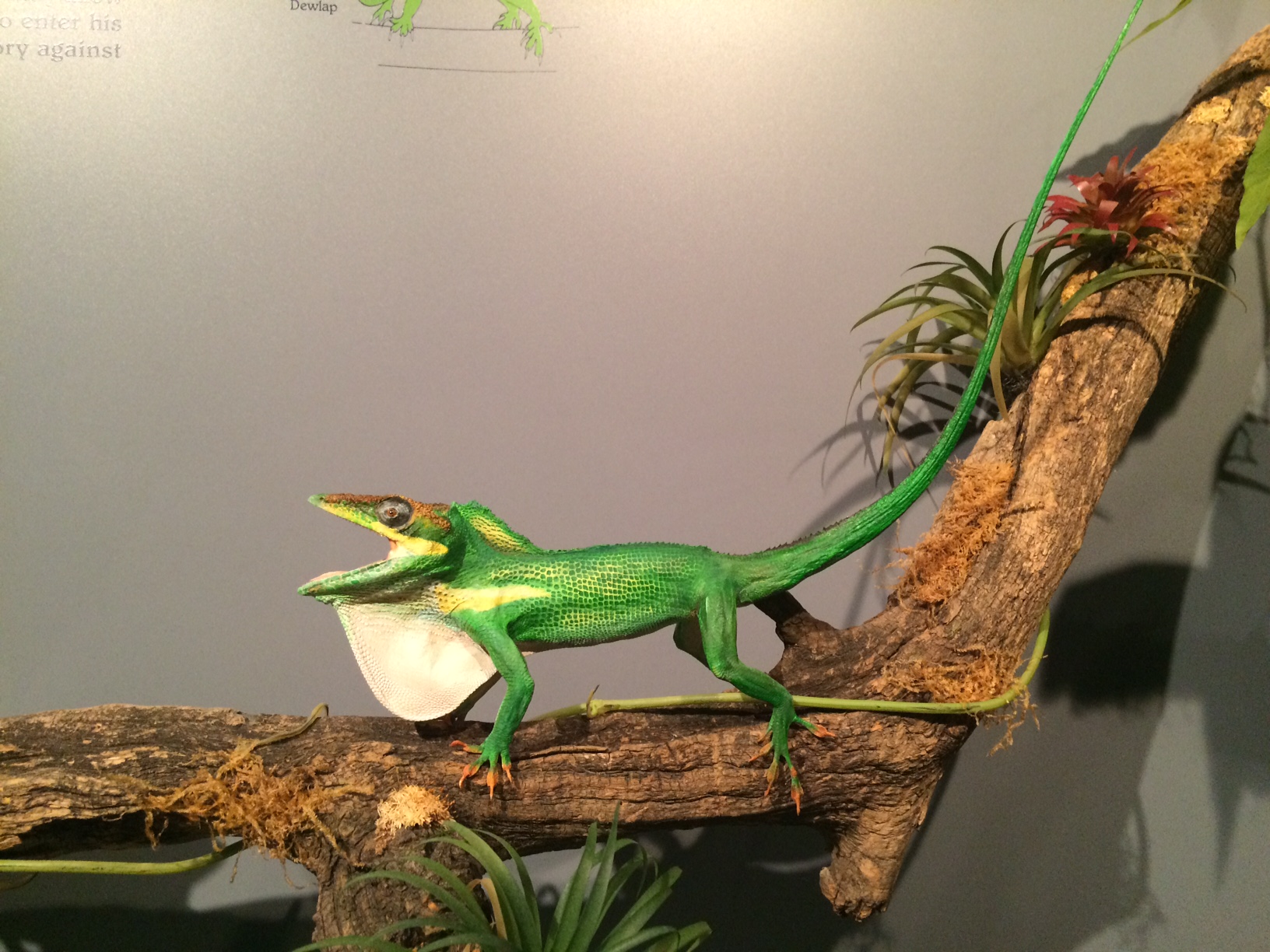 AA stalwart Tony Gamble has provided these two photos from exhibits at the Milwaukee Public Museum. The one above is a knight anole, whereas below, an Archaeopteryx appears to be dining on a green anole, significantly increasing our understanding of the age of the anole radiation.
AA's other Wisconsin stalward, Greg Mayer, provides the low-down: "The equestris  is from the Rain Forest exhibit. This is a fabulous exhibit based mostly on the Costa Rican rain forest, but including some other tropical/rain forest elements. I take my vert. zool. class there every year, and have used it as part of the pre-trip preparation for Costa Rican field classes. It was funded in part by the NSF, and involved lots of field work–they did latex casts of trees to get the bark right for life size models of them! The Milwaukee Public Museum was much involved in making Costa Rica the center of tropical studies for US-based scientists. The MPM was slightly independent of OTS. They had their own field station, La Tirimbina, which is very nice–I've taken students there 2 or 3 times.
Allen Young, the MPM lepidopterist, was the driving force for Milwaukee's tropical studies. He wrote about his work at Tirimbina in Sarapiqui Chronicle (Smithsonian Institution Press, Wash. DC, 1991). Young first went to Costa Rica in 1968 with OTS, then focused his work at Tirimbina. (Bob Hunter, who owned Tirimbina at the time, also owned part of La Selva, and was involved in getting both places established as field stations.) MPM's stake in Tirimbina was sold off by then Milwaukee county executive (now governor) Scott Walker, who couldn't imagine why a natural history museum in Wisconsin could be interested in Costa Rica. Fortunately, another conservation organization bought MPM's share.
Others were involved in the exhibit creation as well, and though I've never asked him, I've always thought the Anolis equestris behavior display in the rain forest exhibit may have been a contribution of Bob Henderson. There are several males and females (not sure if they're freeze-dried, or some kind of model), showing various levels of agonistic display– fans, nuchal crests, open mouth, raised posture– set out on vines/branches. A question I ask vert. zool. students about this display case is how could they tell the lizards are arboreal, even if they were not posed on branches."
And with regard to the photo below: "The other picture is from the Third Planet exhibit (I'm always tempted to write Third Rock!), from a section of that very good exhibit on the Hell Creek Formation and the end Cretaceous vertebrate extinctions. The MPM has two Archaeopteryx models made up with feathers, and the one in the pic has a dried or model Anolis carolinensis in its mouth, painted a fairly bright green. The other Archaeopteryx model is better done, and that one goes out on loan periodically to other museums (I think I've seen it at the Field Museum).