Anole stalwart Greg Mayer gave a wonderful talk discussing the distribution and morphology of the large and maybe-extinct Anolis roosevelti. A. roosevelti, commonly known as the Culebra Island giant anole, was first described in 1931 by Chapman Grant, a US Army Major and practising herpetologist, from a single adult male specimen collected on Culebra. Although Reinhardt and Lutken, in 1863, had already provided an accurate description of A. roosevelti, but under an alternative name of A. velifer.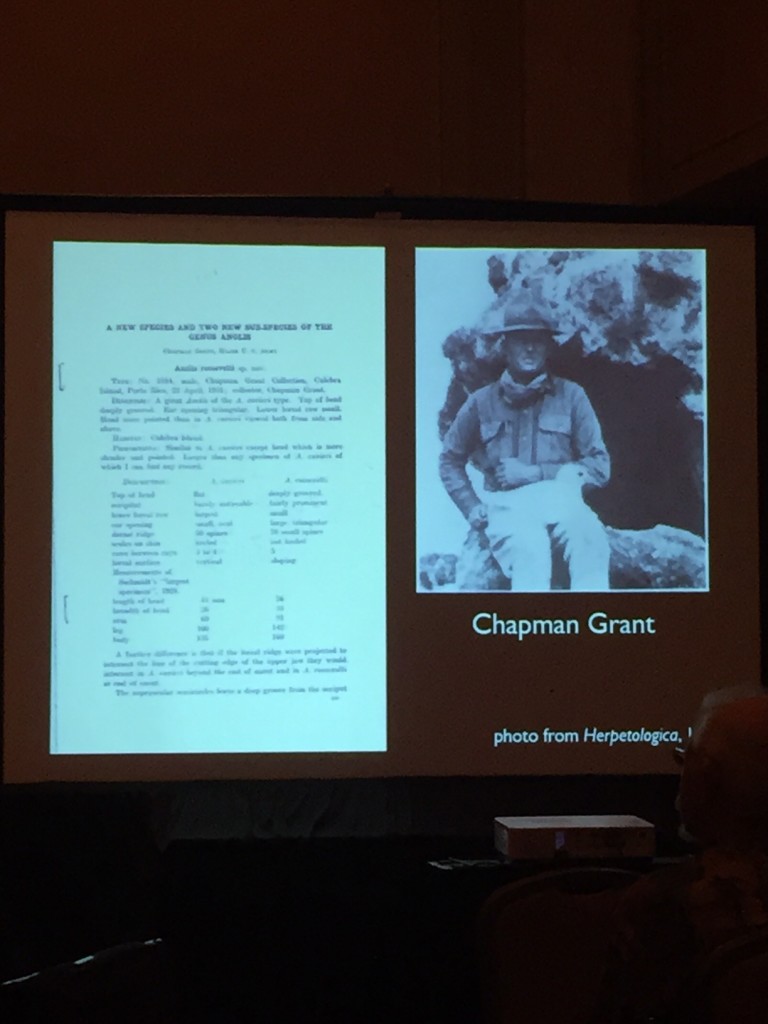 Reinhardt and Lutken's specimens were collected from Vieques, Tortola, and St. John, although Greg having the opportunity to study them meant tracking them down to natural history collections in both Copenhagen and Stockholm. In total, this entire species is known from eight specimens, only six of which are still in existence (Greg had the opportunity to study all six, meaning he's now seen more roosevelti than any other anolologist?). Greg explains that roosevelti based on the limited information provided by Dimas Villanueva, who collected the holotype, and his own investigations, roosevelti can be classified as a "crown-giant" ecomorph. This means that the eastern islands of the Puerto Rico bank had a series of four ecomorphs, with roosevelti being what Ernest Williams termed a climatic vicariant of cuvieri, occuring in (and presumably being adapted to) the more xerophytic forests of the eastern bank islands.
Greg went on to describe the morphological features which distinguish A. roosevelti from a A. cuivieri, an ecologically and morphologically similar species from neighbouring Puerto Rico. Roosevelti is a larger, brownish gray rather than green as is seen in cuvieri (although check out these gray cuvieri preveiously mentioned on AA). Roosevelti generally has larger head scales, and a more elongate and deeply grooved head – these differences are confirmed in the ANCOVA analyses below.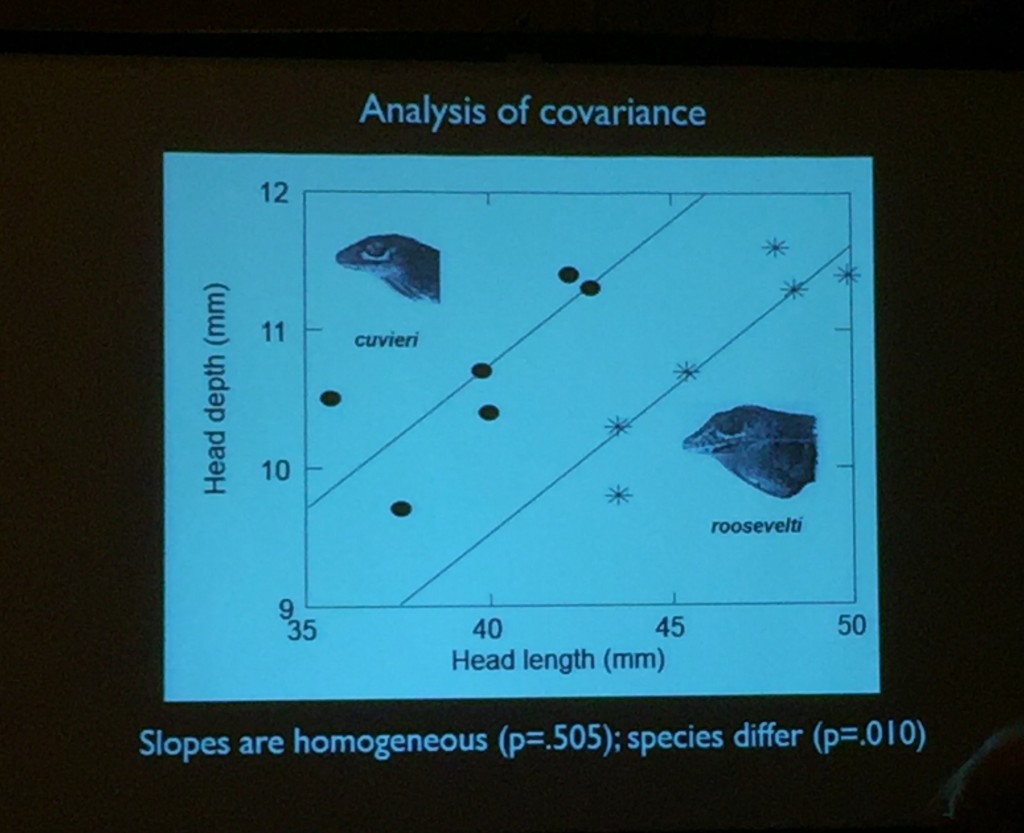 So, what chances are there of seeing roosevelti in the wild? Low, probably. No specimens have been collected since 1932, and several researchers, including Greg, have recently scoured both Vieques, St. John and Tortola but with no success. By far the most extensive searches have been conducted by Ava Gaa, who exhaustively searched Culebra (totalling 1500 hours of looking!) as well as short visits to Vieques and St. John all with no success. Tantalising reports of potential candidates turned out to be juvenile green iguanas. Greg concludes by recommending that the long-protected and relatively poorly explored eastern half of Vieques may hold the secret to if any populations remain.