Over the last several years, ever since Nicholson et al. proposed dividing Anolis into eight genera, the topic of taxonomic splitting has periodically been discussed in these pages (for example, this post, its comments, and links to other posts).
The general question of when to split taxa recently has been revisited in several comments in AA. A week ago, David Hillis wrote:
"Anolis is a valid name for a monophyletic group on the Tree of Life. It is "special" as a genus only in that the genus name is used as part of a binomial for particular species. It doesn't make sense to change the scope and application of generic names unless the names are actually misleading about phylogeny (e.g., if Anolis were polyphyletic, then that problem should be fixed). But splitting a valid, monophyletic genus into a bunch of smaller genera, and thereby needlessly changing the names of many species, without fixing any phylogenetic problems with the existing taxon names, is not science. It is just playing around with names. If someone wants to name the groups within genera, then do so…but there is no reason to change the meaning of a existing name (or the names of the all the affected species) in doing so. That is the kind of silliness that gives taxonomists such a deservedly bad reputation among biologists."
Elswhere, David posted a flowchart on his recommended decision-making process about whether and how to divide recognized genera: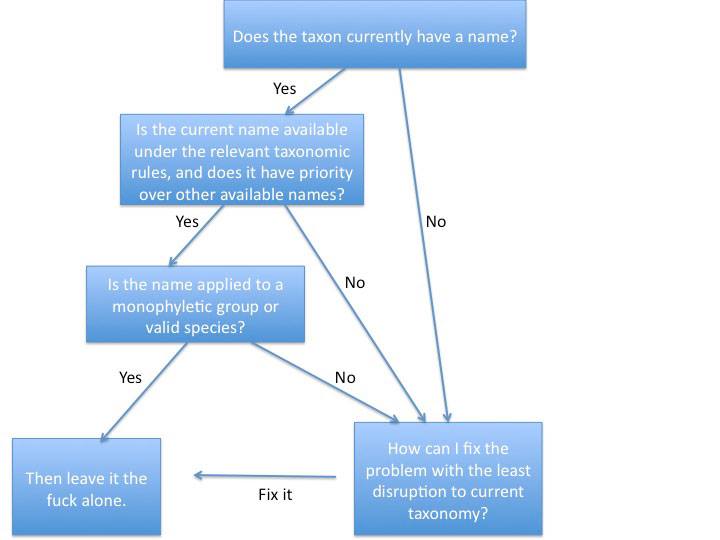 Ivan Prates, in line with comments he made in a recent paper on A. punctatus, then remarked:
"This seems more like a sociological matter.
During the 'taxonomic revolution' of the amphibians, about 10 years ago, the (perhaps?) most influential (or faster?) group was the splitter one, and their taxonomic scheme prevailed. Currently, nobody is upset about which species were once named as Bufo, Hyla or Rana. A few do care about Dendrobates – like Anolis, a sexy group with a body of dedicated investigators.
It seems that a single genus makes sense for the community that investigates dactyloid lizards more closely. On the other hand, those who deal with overwhelming levels of herpetological diversity in the tropics (waaaay beyond lizards) see benefit in more partitioned schemes, which correlate more closely to morphology and geography.
So, when we discuss names, it may be healthy not to forget about our diversity as investigators as well. About science, splitting Anolis is not science, but well, not splitting Anolis isn't science either."