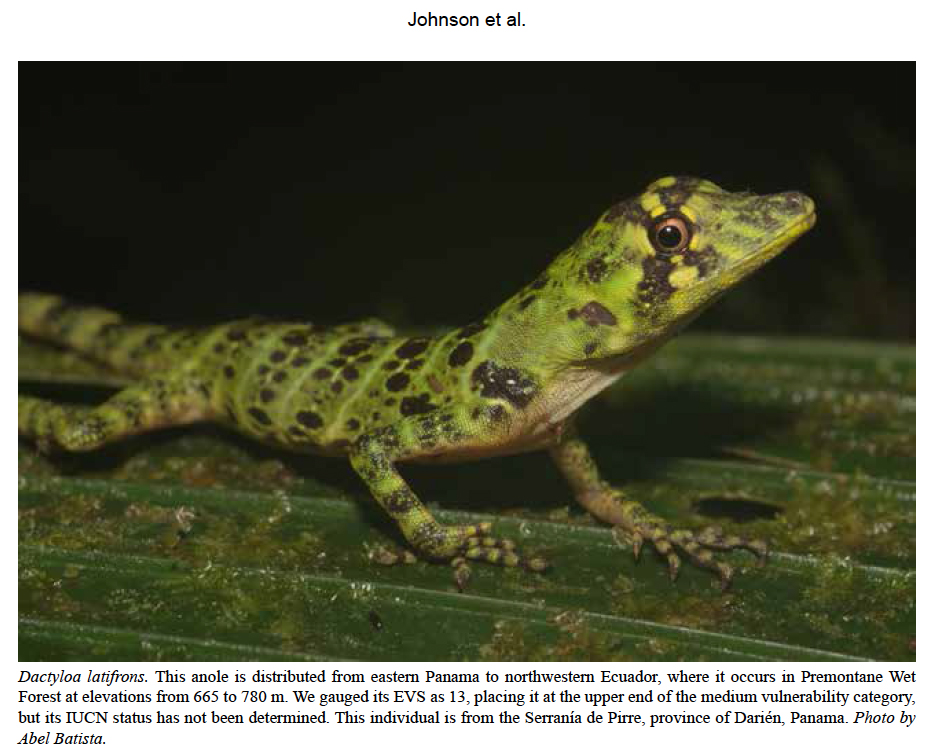 We had plenty of discussion a couple years back about the proposal to divide Anolis into eight genera. The debate seems to have quieted down without clear resolution. Now, in a new paper on Mesoamerican herp conservation, Johnson and colleagues come out in favor of the Nicholson et al. proposal. I'll place their commentary below, but I want to address a point they raise at the end of their discussion.
Johnson et al. conclude: "We agree that Nicholson and her coauthors provided a perceptive set of reasons why their classification will be accepted in time, just as with other classifications that sought to make sense of formerly unmanageable genera, such as Eleutherodactylus , which now not only is segmented into a number of genera, but also a number of families."
This is not the place to discuss or debate these points, which have been thoroughly aired in previous commentary in these pages [e.g., 1,2]. But what about the authors' suggestion that this new classification will be accepted in time? Is that happening?
It's hard to assess how the winds of systematic practice blow, but I took a crack using Google Scholar, restricting my search to the years 2014 and 2015. When I queried how many hits there were for "Anolis," GS returned (searched on August 14, 2015): "about 2600." For Norops,  "about 110." Can we conclude that represents a 24-fold preference for the old taxonomy over the new one? Of course not. For one thing, some of those Anolis papers may have been referring to species that would still be Anolis in the new classification, most notably A. carolinensis.
I then tried again, focusing on probably the most studied species that would change its name in the new classification, Anolis (Norops) sagrei. In this case, for the same 2014-2015 period,  GS located 16 hits for Norops sagrei vs. 270 for Anolis sagrei. These results would seem to indicate that the new classification system hasn't penetrated very far into the broader scientific community.
One clear schism in the anole community is between those scientists who work in the West Indies, who overwhelmingly use the name Anolis, versus those in Central and South America, who are more split. So, as a second test, I looked at what I think may be the most frequently referred to mainland anole, A. limifrons. The GS search in this case yielded six hits for N. limifrons and 22 for A. limifrons. Searching on the species chrysolepis gave a comparable result, 29-8 in favor of Anolis (and proving that my guess was wrong about which species is most discussed in the literature). Still a large preference for the established taxonomy, but only a 4:1 ratio compared to sagrei's 17:1 ratio.
Of course, there are much more sophisticated ways of addressing their question, but they would take a lot more time. Anyone want to dig further?
Here's what the authors have to say (broken into paragraphs for easier reading):
A sizeable number of herpetologists are interested in anoles and their classification. Over the years, many herpetologists have tried to make sense of a group of lizards that presently contains 395 species (Reptile Database website; accessed 28 February 2015), with more added each year (e.g., see our listing of presently added taxa to the Central American herpetofauna, in which we document the recognition of 15 additional species-level taxa since the publication of Wilson et al., 2010). Gunther Köhler and his colleagues undertook most of this work and with one exception (Dactyloa ginaelisae) described or resurrected the remainder under the genus Anolis. In our present work, we list 95 species of anoles in Central America, and Wilson et al. (2013a) recorded 50 species from Mexico; presently 129 species comprise the anole fauna of Mesoamerica (16 species occupy both regions; www.mesoamericanherpetology.com; accessed 28 February 2015). In Wilson et al. (2013a), we listed all 50 Mexican species under the genus Anolis. We took that position because a controversy was brewing over the classification proposed by Nicholson et al. (2012), especially with the harsh rebuttal of this paper by Poe (2013), and we were uncertain where the controversy would go. Since that time, however, Nicholson et al. (2014) provided a detailed response addressing Poe's concerns.
Most anyone with an interest in anole systematics knows the backstory, beginning with Guyer and Savage's (1986) revolutionary cladistic analysis of the anoles. The effect of that study was to segment the huge and unwieldy genus Anolis into a series of eight genera. Subsequently, Williams (1989) authored a scathing critique of the Guyer-Savage approach, asking if the data were available to reclassify the anoles; herpetologists varied in their opinions. During the ensuing years, students of tropical American herpetology basically fell into two camps, those who supported or opposed the Guyer-Savage scheme. In recent years, we sided with the latter camp (Wilson and Johnson 2010; Johnson et al. 2010; Wilson et al. 2013a), but did not undertake an exhaustive study of the matter.
Nonetheless, after the publication of Poe's (2013) critique of the Nicholson et al. (2012) paper and the Nicholson et al. (2014) rebuttal, we decided to take a fresh look at this issue. Principally, the controversy that developed over the last two years results from two approaches to the classification of anoles. The Nicholson et al. (2012, 2014) approach was to recognize eight genera of these lizards. Poe's (2013) tactic was to jettison entirely the Nicholson et al. (2012) approach and to recognize a single genus that contained 391 species, the largest genus of squamates.
Fundamentally, Poe's criticism of the eight-genus approach was two-fold, i.e., that "some of the proposed genera are not monophyletic" and that Nicholson et al. (2012) did not study enough taxa or enough characters. Nicholson et al. (2014) presented their rebuttal "to explain how Poe erred in characterizing our work, and missed the opportunity to present an alternative comprehensive taxonomy to replace the one against which he argues so strenuously.
In this contribution we explain, and correct, Poe's errors and misrepresentations, and argue that our taxonomy is likely to be adopted because it (1) eliminates the obvious problem that will arise if the family Dactyloidae contains only a single large genus (i.e., that a single genus obscures the evolution and diversity within the group and misrepresents or cloaks it), (2) it conforms with the long historical trend of dissecting large, cumbersome groups into smaller sub-units, (3) is consistent with all recent phylogenetic studies for anoles in membership within clades we recognize as genera, and (4) aids in associating these lizards with the ancient land masses that shaped their history."
We consider that Nicholson and her coauthors adequately responded to Poe's criticisms and we are confident in adopting the portion of their scheme relevant to the situation in Central America, and Mesoamerica as a whole. So, what impact does the Nicholson et al. approach have on the taxonomy of anoles in Mesoamerica? As it turns out, only three of the eight genera Nicholson et al. (2012, 2014) recognized contain Mesoamerican species as follows: Anolis (one species), Dactyloa (10 species), and Norops (118 species)…