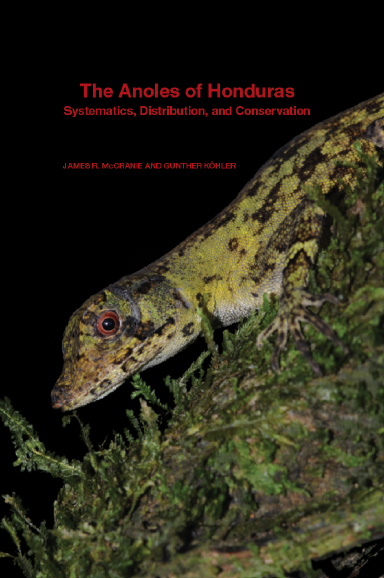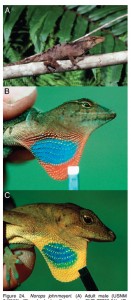 McCranie and Köhler have just published an authoritative account of the 39 species of Honduran anoles. Rich in detail and thorough in coverage, this volume will be of interest to anyone interested in neotropical herpetology.
Harvard University Press's description says it all: Caribbean members of this group have been intensively studied and have become a model system for the study of ecology, evolution, and biogeography, but knowledge of the anoles of Central and South America has lagged behind. In this landmark volume, veteran herpetologists James R. McCranie and Gunther Köhler take a step toward rectifying this shortcoming by providing a detailed account of the rich anole fauna of Honduras. Generously illustrated with 157 photos and drawings, The Anoles of Honduras includes information on the evolutionary relationships, natural history, distribution, and conservation of all 39 Honduran anole species. The work is the result of decades of study both in the field and in museums and is the first synthetic discussion of the complete anole fauna of any Central or South American country. Each species is described in great detail with locality maps. Bilingual (English and Spanish), extensively illustrated identification keys are also included.
Like all publications of the Bulletin of the MCZ and Breviora, the book is freely available as a pdf on the journal's website. But a pdf just doesn't look right on a bookshelf, not to mention getting soggy in the field. For those who really  want to get the most out of this volume, why not consider purchasing it from Harvard University Press for only $24.95 (not bad for a 280 page volume jam-packed with color photos!)? And it's even cheaper on Amazon (currently $20.48).