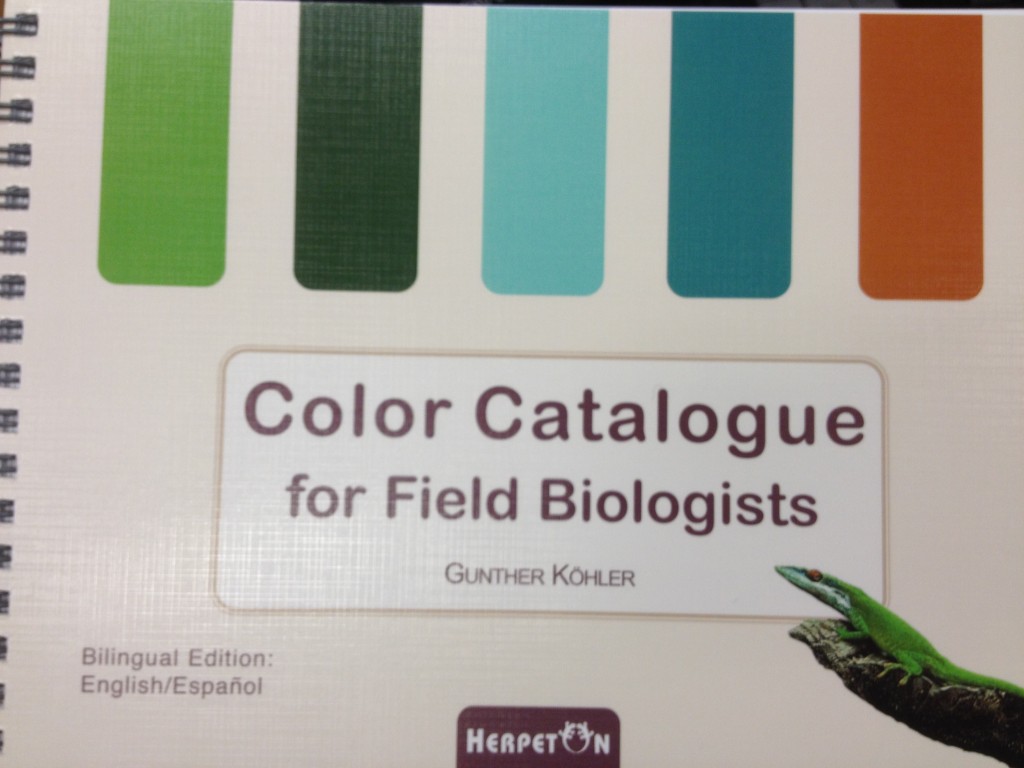 Anole biologist Gunther Köhler has produced a handy manual, available from Herpeton publishers, to help describe colors of specimens, especially in field situations. The book's introduction can explain better than I what it is used for and why it was written:
The accurate description of the coloration in life of organisms represents an important component of the work of any field biologist. Subtle differences in the coloration in life, such as in the color of the iris, the lining of the mouth cavity, or the tongue are diagnostic for certain species and have been used by taxonomists to differentiate among species.
Whereas many aspects of the external morphology of scientific specimens can be preserved with proper fixation methods, there is still no way to assure the long-term conservation of the coloration in life in such specimens. This is especially true for animals traditionally fixed with the help of formalin and ethanol, such as fishes, amphibians, and reptiles, and then stored as a wet collection. Colors such as red, yellow, and orange disappear rapidly once the specimen is placed in the preservative. Green-colored amphibians and reptiles can turn blue, lavender, purple, or black within a short time after preservation.
Of course, taking photographs of animals helps to document the coloration in life. Possible drawbacks to this technique are incorrectly adjusted white balances, which cause colors not to be reproduced accurately. Also, photographs often do not show coloration of hidden body parts. Therefore, biologists have a long tradition of recording colors by making written descriptions. Since individuals see colors differently and because it not easy to define, for example, different shades of brown or green in words, having a color standard helps to produce more objective and detailed descriptions that also have a greater chance of being reproducible. Such a reference can be used to compare descriptions made by different persons at different times and places. For decades, field biologists have utilized the "Naturalist's Color Guide" by Frank B. Smithe (1975-1981) as the standard reference for color descriptions. However, for many years now, this important reference has been out of print and is no longer available.
I have used Smithe's "Naturalist's Color Guide" (called "Smithe Guide" from here on) extensively during the past 20 years, and my copy now clearly shows signs of this intensive usage under field conditions over the years. With no hope of being able to obtain a copy in good shape to replace my old one, I decided to produce a new reference to fill the gap left by the now unavailable Smithe Guide.
The resulting "Color Catalogue for Field Biologists" you are holding in your hand is not a duplicate of the Smithe Guide. Rather, it contains an extended palette of colors (300 swatches in the present work versus 182 in the Smithe Guide), arranged in order of similarity of the colors to enhance straightforward comparison of similar color swatches. Also, I have included definitions of descriptive terms and photographic examples of certain patterns frequently found in amphibians and reptiles. Finally, I offer some advice on how to prepare a color description in life with examples of such a description. In order "not to reinvent the wheel" and to make color descriptions using this catalogue comparable with those produced utilizing the Smithe Guide, I have tried to match as closely as possible its 182 swatches. However, despite my best efforts, this only resulted in approximations, not in precise matches of the Smithe color swatches. Nonetheless, since printed colors do change with age (and field usage!) due to pigment fading, tarnishing of printed materials, and paper aging, I suppose it is safe to assume that there are no two identical copies of the Smithe Guides still in use. For each of the 300 color swatches included in this catalogue, I provide an identifying color name and a color number. The color names have been mostly adopted from the Smithe Guide.
Although I have designed this color catalogue from the perspective of a herpetologist, it should be as useful for any biologist seeking a reference to describe coloration, including ichthyologists, ornithologists, entomologists, and even botanists.