Two-tailed–or occasionally even three-tailed–lizards are not all that uncommon. The way it usually happens is easy to explain. Most lizards can lose their tails and regrow a new one.  The way they do this is that in the middle of each vertebra in the tail is a zone of weakness (called a "breakage plane"), pre-made to easily fracture. At the same point, the muscles are arranged to pull apart, and the blood vessels to easily split and clamp down, losing little blood. When this happen, the signal goes out–don't ask me how–and new tail construction begins.
But occasionally it doesn't quite work like this. The tail is only partially broken, and doesn't come off, but enough is broken that new tail growth begins. The result: two tails, the old, still attached one, and the newly grown one.
Now, one more point: new tails do not regrow the original vertebrae, made of bone. Rather, they grow as one long, cartilaginous rod. So, one can easily tell the new tail from the old one.
In any case, that's how I understood things. When we caught the beauty pictured above, I thought "let's x-ray the tail to illustrate how this happens for our viewing audience back home." And boy was I surprised. Take a close look–both tails are composed of cartilage–no bones there.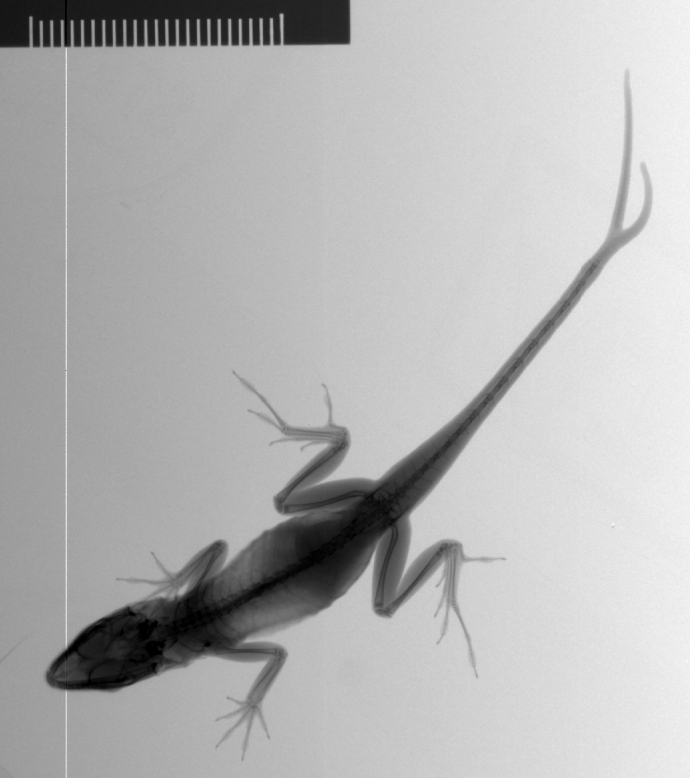 Now, you're probably thinking: "Big whoop. It lost its tail, regrew it, then partially broke the regenerated tail, leading to the production of a second one." Well, you're probably right, but it's not supposed to happen that way. Regenerated tails do not have breakage planes and other adaptations for detachment. They're not supposed to be lost and regrown. Can anyone explain to me what's going on here?