Previous posts (1, 2, 3) have discussed the effect of Curly-tailed lizards (Leiocephalus carinatus) on brown anoles in the Bahamas and elsewhere. To summarize briefly, the effect is this: curly-tails eat brown anoles. Lots of them. The survivors move up into bushes to get away.
Such slaughter may seem of academic interest when it occurs in far-flung Caribbean ports, but soon–already!–Florida denizens can see the carnage up close and personal. The reason: curly-tails have been introduced to the east coast of Florida and seem to be spreading fairly rapidly.
This is all preamble to a series of photographs that AA reader John Rahn has sent in. John lives in Hobe Sound, Florida  (on the coast, north of Miami and West Palm Beach) and enjoys watching and photographing lizards on his back patio. He commented that "I love watching their antics. They are actually quite interesting and are great subjects to practice shooting (photographing).There's another on my patio (editor's note: "another" refers to  the A. distichus  he mentioned, along with a photo, in a comment), a girl with great markings and a red head, and this big boy."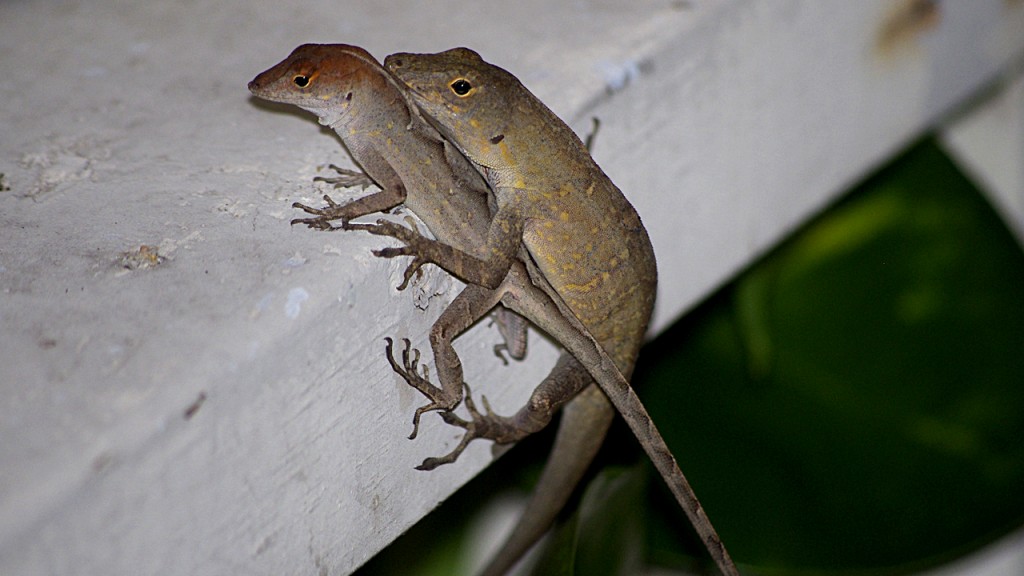 But these were not his favorites. That honor was reserved for one he nicknamed The Big Kahuna. "He RULED his end of the patio. He'd chase away anyone that did not belong in his space – except for the curlytail." He was a big boy. Really enjoyed watching him. He got very used to me being in his space."
Now, about those curly tails. There was one who "would come through the patio, when on her daily route, about the same time every  morning. She (I think it was a girl) would occasionally stop and hang out with me for a while….My sister had a family(?) of them living on her back porch. They knew, when they heard the sliding glass door, that it wad feeding time. There was one who liked to be fed by hand."
Naturally, I asked if John had a photo of a curly and a brown anole together. No dice. "When the curly would appear on the patio, even the Big Kahuna was GONE!"
Having studied the interaction between curly tails and brown anoles, I know the peril the little fellows experience. Not surprisingly, as any kindred spirit would, John became attached to BK. "After a few months of hanging out with the Big Kahuna, I started feeling protective of him. I'd chase off competing males, etc. One day a BIG, black bird landed on the fence (a grackle, maybe) and was REALLY eyeballing him, as he sat on the patio floor. I chased the bird away, which took some doing as he was truly wanted that lizard. Kahuna was lucky, that day."
And who amongst us wouldn't have done the same thing? I, for one, remember the time I plucked a poor baby brown anole out of a spider web, even though it was in the middle of a population dynamics study. But that's another story.
I'll end with this beautiful photo from John's backyard.