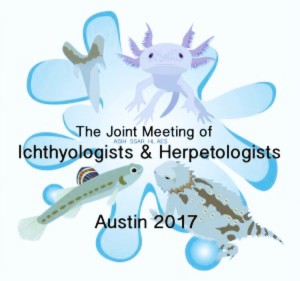 Greetings from Austin, Texas, and the Joint Meeting of Ichthylogists and Herpetologists! Chris Thawley and I have appointed ourselves to be your AA reporting team from JMIH, and we're aiming to post updates from each of the 8 anole talks and posters at this meeting.
On the first day of the conference, there were two exciting talks on the ecology of Costa Rican anoles. The first was by Brian Folt, a graduate student in Craig Guyer's lab at Auburn, who developed a model of predator-prey co-occurrence where one of the prey were anoles (Anolis (Norops) humilis) and the predators were…spiders?!  Yes, wandering spiders, or ctenids, can prey upon the small anoles on the forest floor. (The other putative prey were poison dart frogs, who have a relatively similar life history to anoles.) Brian performed an extensive field study in 14 plots at La Selva Biological Station, conducting visual encounter surveys for anoles, frogs, and spiders, and recording arthropods in leaf litter samples. He used two-species occupancy models to determine how prey were affected by the presence of the predator and by resource abundance in the leaf litter. The result? Anole occupancy was lower where spiders were absent, and the detection probability of anoles was higher when spiders were present and detected. This suggests that anoles are responding behaviorally, such that they may increase their vigilance when predators are around.
I then ran across the conference center to catch the next anole talk – a terrific presentation by Michelle Thompson, a graduate student in Maureen Donnelly's lab at Florida International University. Michelle studied whether thermal quality differed across the stages of forest succession, and how that affected Anolis (Norops) humilis and A. (N.) limifrons distributions. She worked across transects of pasture, secondary forest, and old growth forest in both upland and riparian sites. Michelle measured the thermal quality of each habitat, the thermal preferences of the lizards, and the location and abundance of the lizards. She found that thermal quality was lowest in the pasture sites, as temperatures were frequently higher than the lizards prefer. Yet, in these pasture sites, riparian habitat with remnant trees provided a thermal refuge for the lizards. This kind of work can help us understand why and how species may respond differently to human-caused alterations in habitat structure and temperature in our changing world.
Stay tuned for updates from JMIH, and follow the #JMIH17 hashtag on twitter for more herp-related news!