Cities and urban areas are expanding rapidly around the world, altering the environment and creating very different ecological and selective pressures for organisms that live in urban habitats. A few of the most striking differences between urban and natural habitats are higher temperatures and a huge increase in artificial substrates like the walls of buildings. These artificial substrates (e.g., metal, concrete) are not only significantly smoother than natural (i.e., trees) substrates, but also absorb, retain, and radiate heat differently. Consequently, organisms may alter their behavior to better deal with these and other challenges of city life. Since anoles cannot internally regulate their temperature, behavioral shifts may be driven by perch substrate properties, temperature, or some interaction of the two.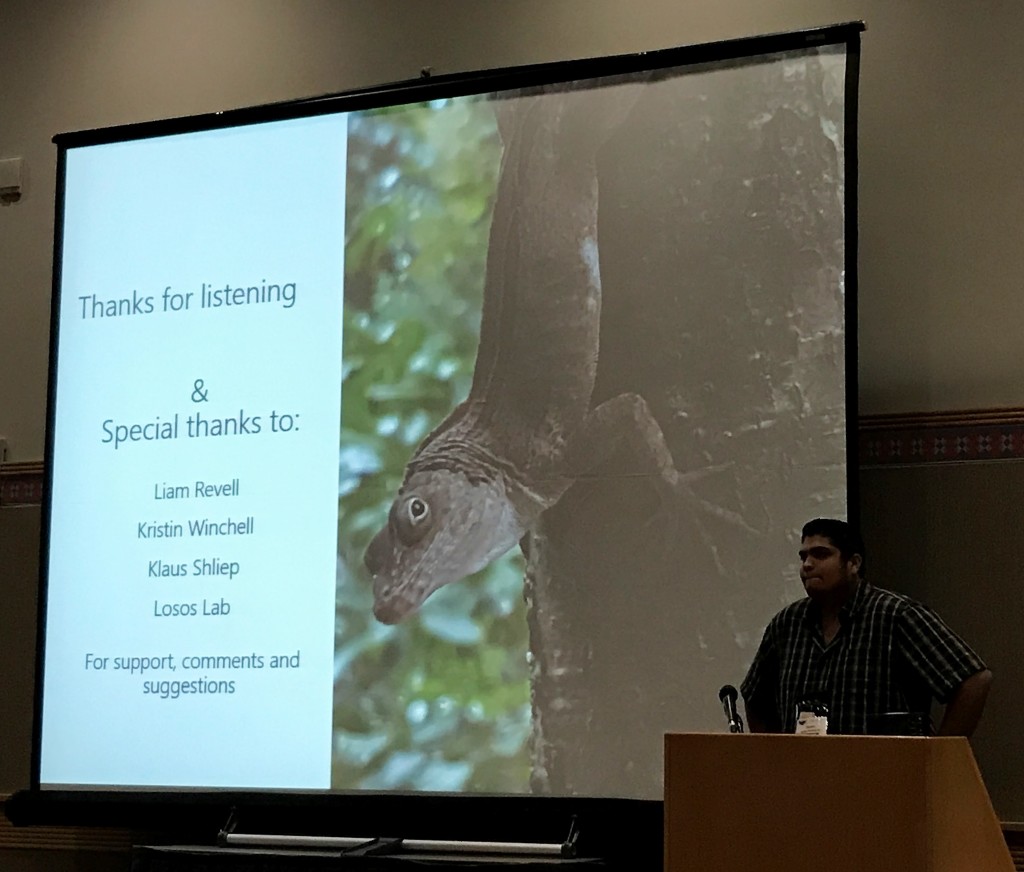 Kevin Aviles-Rodriguez (U. Mass. Boston) addressed this question in urban Anolis cristatellus in San Juan, Puerto Rico. He created experimental enclosures in which each wall was a different substrate: wood, plastic, painted cement, and metal. He placed individual lizards into the enclosures and observed which wall they were perched on throughout the day. He also recorded the temperature of each wall, to determine how perch temperature of each substrate type influenced perch choice. Aviles-Rodriguez conducted this experiment in both urban and forest populations, and predicted that urban lizards would use artificial substrates more readily than forest lizards.
Interestingly, he did not find that to be the case – lizards from both urban and forest habitats used bark much more than any other surface. However, when lizards did use artificial substrates, they tended to use metal and cement when these perches were cooler, suggesting that perch temperature is a factor in perch choice. Aviles-Rodriguez plans to test these hypotheses more thoroughly by conducting additional experiments across more urban replicates to see if the same pattern emerges. He also plans to experimentally control the temperatures of different perch substrates in his enclosures to see whether lizard choices are primarily driven by perch substrate or temperature.