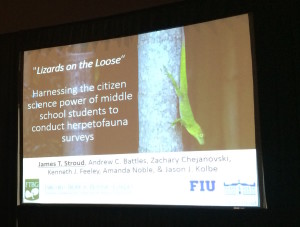 In one of the few anole talks here at the annual Ecology meeting in Ft. Lauderdale, Florida, James Stroud presented on a project he conducted with the Fairchild Tropical Botanical Garden, Jason Kolbe, and others. Together, they organized a large citizen science project engaging middle-school aged students to collect distribution and abundance data about anoles in the Southern Miami region in a program they call "Lizards on the Loose."
In this outreach project, James and colleagues had 101 schools participate in collecting data. Armed with a handy anole ID guide created by Jason Kolbe and a video by James explaining anole biology and species differences, students and teachers set out to conduct 15 minute visual surveys. On these surveys, they recorded how many animals they encountered, the species ID, and the approximate body size using a provided standardized collection protocol and entering data into a Google forms site.
The results were overwhelming: more than 1,000 students conducted a total of 1,356 surveys resulting in 12,000+ lizard observations! This project produced massive amounts of data on very short time frames. In general, distribution patterns fell as they were expected to, although some records certainly hint at some mis-identification (e.g. some A. cristatellus locations). Unsurprisingly, the least abundant lizards were those that were hardest to detect: the species typically found high in trees.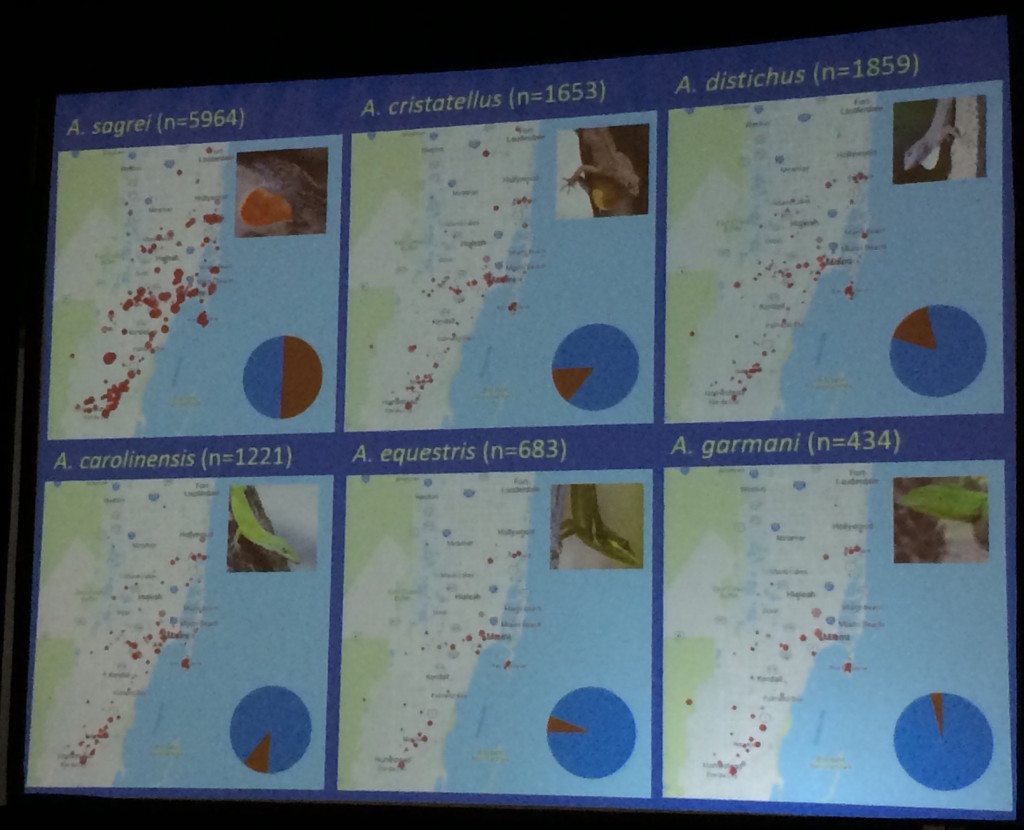 While the resulting dataset is impressively large, James admits that there are data quality issues with collecting data in this manner and asked for input on how to improve data collection. Specifically, he suggested that in the future they would like to incorporate photographic and smartphone GPS information, perhaps via an app. Does anyone have any suggestions for James on implementing such an app or otherwise improving the design?
James emphasized that providing meaningful natural experiences with wildlife for kids is good for conservation, fosters an appreciation for nature and helps inspire the next generation of scientists. Many of our readers may find inspiration from the success of this program and we would love to hear about it if you implement similar types of citizen science projects with anoles!