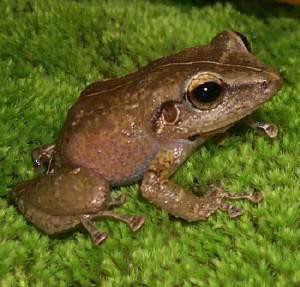 Stephen Jay Gould famously claimed that evolution is "utterly unpredictable and quite unrepeatable," and we Anolis biologists have relished in proving that statement wrong. In his talk in Austin this week, Alejandro Gonzalez Voyer of UNAM (with coauthors Alvaro Dugo Cota and Carles Vilá) showed that anoles aren't the only Caribbean herps to exhibit the independent, repeated evolution of ecomorphs across islands – Eleuthrodactylus frogs have joined the club!
Among the remarkably diverse Caribbean Eleuthrodactylus species, nine ecotypes exist, including terrestrial, leaf-litter, aquatic, riparian, bromelicolous, arboreal, fossorial, cavernicolous, and petricolous specialists. Gonzalez and his coauthors first determined that these ecotypes evolved repeatedly, and showed that their distribution resulted from both invasion across islands and intra-island speciation. They also found that eight of the nine ecotypes cluster in morphological space and exhibit significant convergence. (The ninth, the fossorial ecotype, is composed of a monophyletic clade from Hispaniola and so convergence could not be tested.)
In sum, it appears that Eleutrodactylus ecotypes are indeed ecomorphs, and that evolution may be utterly predictable and quite repeatable after all.