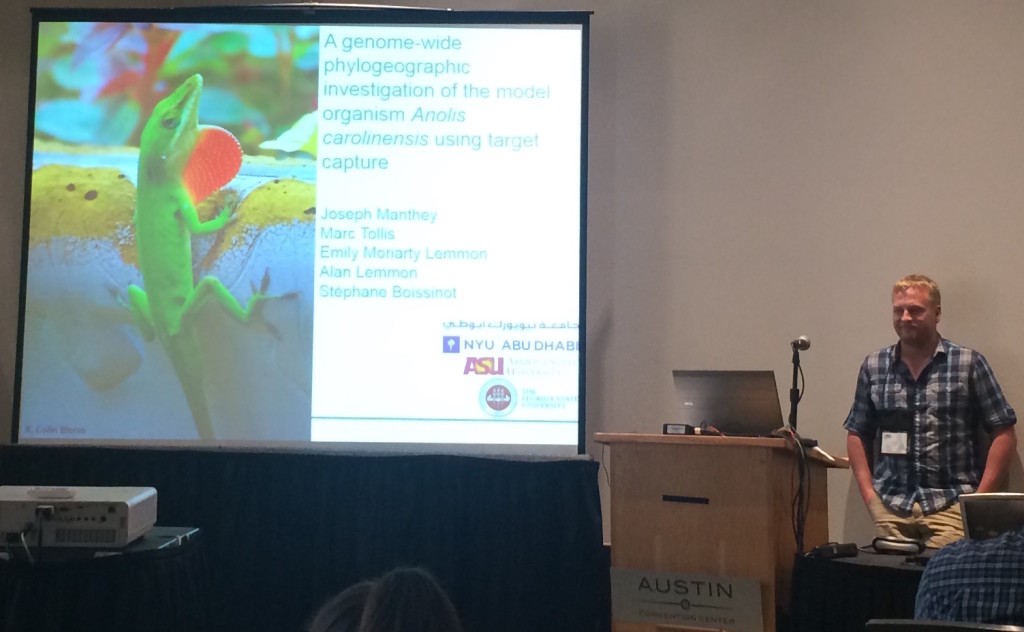 Anoles, in particular Anolis carolinensis, have long been considered an ideal group for studies investigating thermal physiology, reproductive endocrinology, and even regeneration. With the recent publication of the A. carolinensis genome  (see AA posts on this here and here), the possibilities for new genomic studies in this new model species have significantly increased.
Joseph Manthey and co-authors used this new resource to clarify the phylogeographic relationships of A. carolinensis. Previous research on the phylogeography of A. carolinensis using both mitochondrial DNA and nuclear DNA showed that there were 5 clades. However, the relationships between these groups differed between the two approaches. Joseph looked at the genomes of 42 individuals from 26 localities across the native range to determine the true evolutionary relationship between regional groups and to shed light on the demographic histories of the groups. Manthey sequenced 500 loci using an anchored hybrid enrichment approach.
Manthey et al. found that the genomic data predicted 5 genetic groups, in agreement with both the nuclear and mitochondrial analyses previously done. Their results also indicated that the 5 genetic clusters were distinct with little admixture. However, the relationships between groups did not agree with either the mitochondrial or nuclear trees, yet all nodes had extremely high support (93-100%)
Finally, Manthey commented on the likely timing of this diversification and associated demographic trends. Their results indicate that the initial split occurred during the late Miocene or early Pliocene and that the remaining diversification occurred during the Pleistocene. They also found that the most Southern population had a significant number of fixed genes while other populations did not. This suggests that this group was likely the oldest and most stable and supports an "out of Florida" hypothesis of diversification.