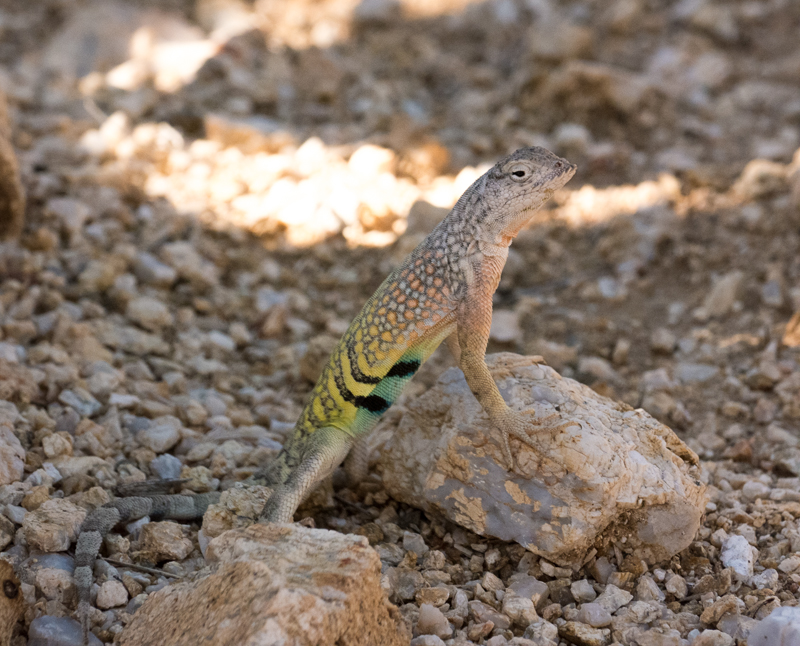 Here at Anole Annals, we can appreciate a good dewlap. In particular, a pair of agamid clades, namely the genera Draco and Sitana + Otocryptis, arguably do extensible throat fans even better than Anolis. But dewlaps are actually found in many other iguanian lizards, covered by AA posts here and here.
Today I thought I'd share a lesser-known dewlap, that of Cophosaurus texanus, known as the greater (greatest?) earless lizard, and a legitimate candidate for best lizard coloration if you ask me. In my experience, these lizards don't often dewlap, but will occasionally hit you with a few push-ups, and reliably wag their striped tails at you before darting away — though they are upstaged in this latter respect by Callisaurus draconoides. On a recent walk in the Rincon mountains near Tucson, Arizona, I encountered a particularly saucy individual, and thought I would share.
Here's a series of photos showing a pushup/dewlap combo being delivered. By the way, Cophosaurus texanus are known to display at potential predators (see Dial 1986, American Naturalist 127:1).
Another shot, the dewlap is being retracted here: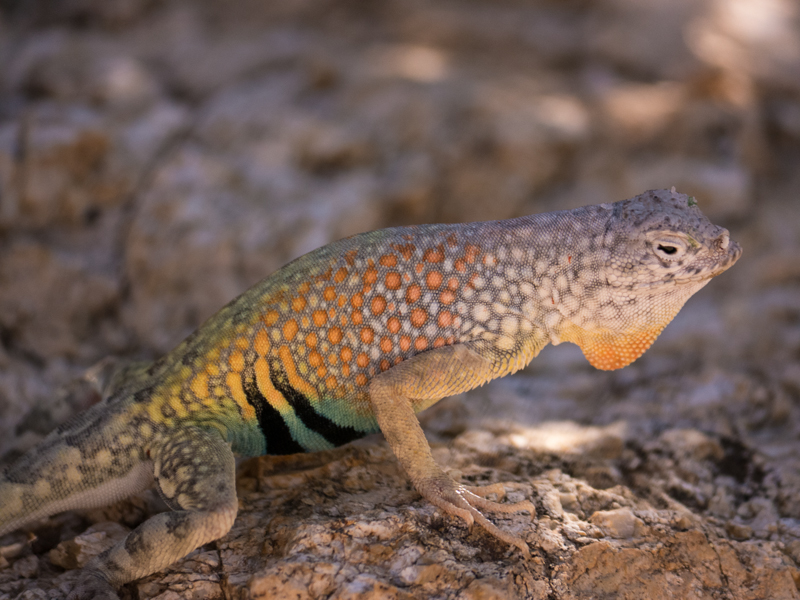 As far as dewlaps go, its not the most impressive, but there certainly looks to be some cartilaginous rod action involved, as in Anolis. But wait – notice anything unusual in the above photos? Yes, there looks to be a parasite peeking out through the lizard's nostril. Here's a closer look: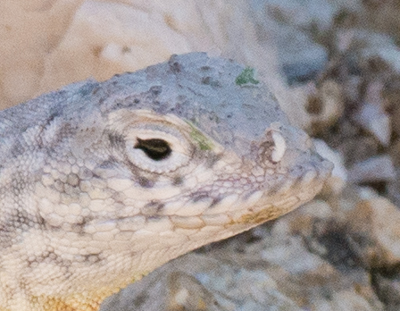 Pretty gnarly. I'm not sure what the parasite is, it looks to me like it could be a maggot (hey, speaking of maggots, remember anole throat maggots?). Hope I didn't just ruin anyone's lunch!
Anyway, if you're interested in learning more about Cophosaurus, here is an excellent write-up written by Robert Bezy and provided by the Tucson Herp Society.