In species of Anolis where females have dewlaps, we know very little about exactly how females use their dewlaps. Losos (2009) describes this lamentable situation thus:
"Unfortunately, little is known about how females use their dewlaps, and the little information that is available from three species permits few generalities. Anolis carolinensis females only rarely use their dewlaps in intersexual displays (Jenssen et al., 2000), whereas female A. valencienni use their dewlaps primarily to discourage courting males, including those of other species (Hicks and Trivers, 1983). Both A. carolinensis and A. bahorucoensis females use their dewlaps in intrasexual displays (Orrell and Jenssen, 1998, 2003); in A carolinensis, females use the dewlap more at close range and less at long range in female-female interactions compared to dewlap use in male-male interactions (Jenssen et al., 2000; Orrell and Jenssen, 2003). Unfortunately, without more information on how females use their dewlaps, we will not be able to explain sexual dimorphism and dichromatism in anole dewlaps."
Since then, Martha Muñoz has added an observation from A. armouri, but the numbers are still small.
In July 2013, I spent ten days observing A. cristatellus in Mayagüez, Puerto Rico, and can add one more species to the list of female anoles that use their dewlaps to dissuade males from mating with them. I was mapping male territories and counting male-male interactions in a park in one of Mayagüez's fancier neighbourhoods, and came across a male chasing after a female. I sat down to watch the interaction, and was struck by how determined the female seemed to avoid mating with this male. You'll notice how the male is biting the female much lower down the body than is normal during mating, indicating how the female is trying to get away. Her dewlap is completely extended during this interaction.
The chase went on for several minutes before the female ran to the end of a thin branch and another male showed up to chase the first male away. I proceeded to catch and mark this second male, and later observations revealed him to be the resident territory holder of the tree.
A little later, we caught a male in the tree adjacent to one in which the showdown occurred. In a fantastic stroke of luck that anyone whose work depends on identifying individual animals in the field will appreciate, we were able to determine that this male from the adjacent tree was in fact the first of the two males observed earlier.
How, you ask, did we perform this forensic  wizardry? Observe the second tiny tail of the interloper attempting the forced copulation: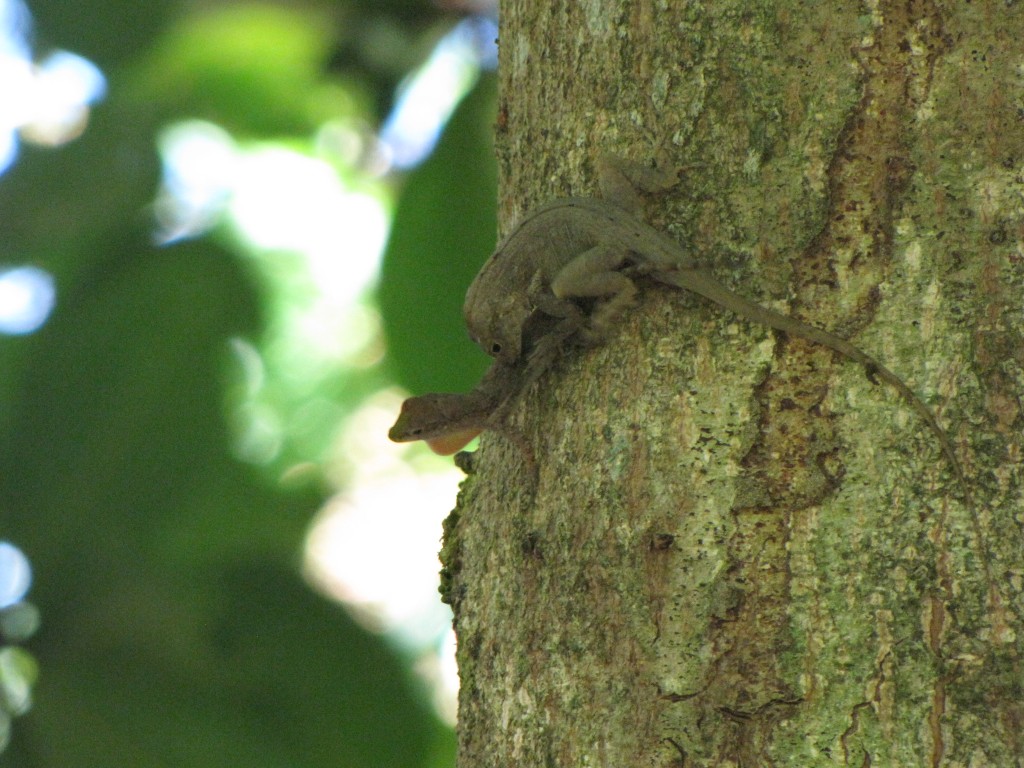 Caught red-handed!
I was showing these photos to Jonathan Losos the other day, and he immediately noted that the observation of a female using her dewlap was pretty rare. Of course, the obvious response was to write a blogpost about it, but then we realised that with Anole Annals' daily viewership of up to 1500, we could do more than just write a blogpost–we could do citizen science! So this, ladies and gentlemen, is an invitation to all of you to help build a  dataset. It's more than the usual request for participation and comments that I end many posts with–it's a challenge to all of us AA readers to keep an eye and camera out for examples of females using their dewlaps, so that we can together figure out a pretty basic piece of Anolis biology.
We've done this sort of citizen science before, quite successfully: here's Kristin Winchell's call for data on urban anoles, and here's the resultant analysis.  And there's all sorts of exciting natural history questions that would be impractical for individuals to tackle on their own, but that we can solve easily as a team. Let's make this blog a citizen science hotspot!