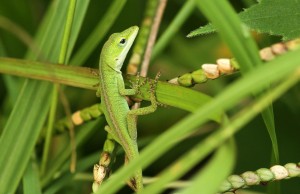 A majority of biomechanical studies focus on eliciting maximal performance from animals in laboratory conditions, an approach that can make it difficult to apply results from the lab towards understanding performance in nature. Jerry Husak addressed this issue in his talk entitled "Maximal locomotor performance and sprint sensitivity in green anole lizards (Anolis carolinensis)."
By measuring sprint performance on a variety of perches (two different dowel widths, as well as a broad perch with pegs functioning as obstacles) and comparing these performances to sprint performance on a broad, flat surface, Husak showed that green anoles are substantially worse at running on narrow perches and through obstacles than at running on broad, flat surfaces. This confirms that animals moving through their natural habitats are almost certainly sprinting sub-maximally–in nature, green anoles are found most often on perches even narrower than those tested.
Crucially, the morphological correlates of performance varied by perch, suggesting that fine-scale studies of selection on limb and muscle morphology in the wild will require knowledge of how often and in what circumstances lizards navigate different microhabitats and move on different substrates. Coupled with behavioural observations in the wild, this study can pave the way for a more nuanced understanding of body shape evolution in our favourite lizards.