A few weeks ago, we collected the common grass-bush anole Anolis pulchellus around the El Verde Field Station for an enclosure experiment looking at interspecific interactions. We stored the lizards in baggies in the lab for a day or two, moved them to their enclosures for just under three weeks, and we've recently finished recapturing them from the enclosures. After measuring their growth and sampling their diets, we put them back where we found them so they could continue on their way with a great story to tell their friends.
One unlucky anole, however, never made it to its enclosure. When I retrieved its bag to take to the experiment site I found the following tragic scene: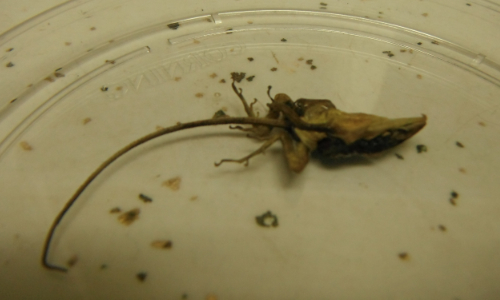 The anole appeared to have basically exploded. It looked like foul play, and unlike in the case of other anole-themed murder mysteries, in this case the culprits were apprehended immediately. This poor little (31 mm snout-vent length) guy had somehow been running around out there despite harboring not just one, but five chunky fly larvae inside him.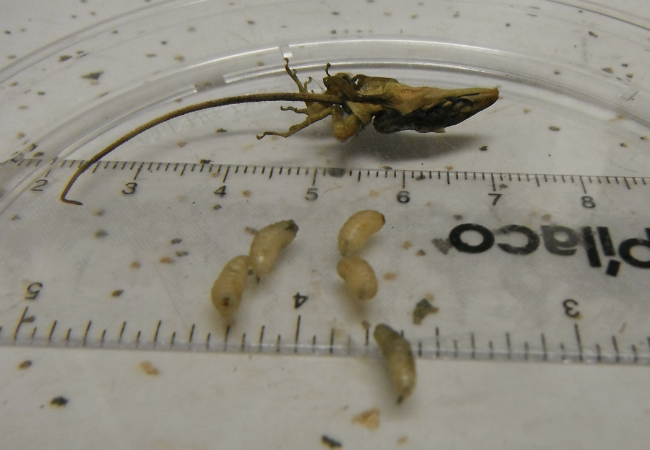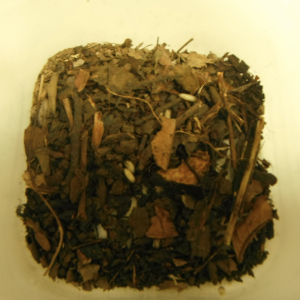 Just for fun, I kept the larvae in some moist dirt in a plastic container on my desk. I'd largely forgotten about them, but after about three weeks (and only days before we're due to leave Puerto Rico), the circle of life was complete. Three of the five larvae emerged as adult flies buzzing around the container.
I've spent plenty of time looking at aquatic insect larvae from fish stomachs, but I'll be the first to admit I know next to nothing about adult insect identification. Some quick googling turned up a study by Irschick et al. (2006) looking at the effects of a parasitic fly on Anolis carolinensis in Louisiana. That parasite was a member of family Sarcophagidae – the flesh flies – and it looks like that's probably what was living inside the poor anole as well. They certainly have the red eyes and striped backs that characterize Sarcophagids, though if anyone can identify it with more confidence please let us know.
Interestingly, I'd noticed that some of the Anolis pulchellus had bumps or nodules projecting from their bodies. This seemed to be especially common in anoles from higher elevations (400-500 m) – this is where the deceased anole came from, though I didn't notice if he had bumps too. Has anyone noticed these on other species? I don't know if there's any connection to parasite infection, but it's a suspicious coincidence…