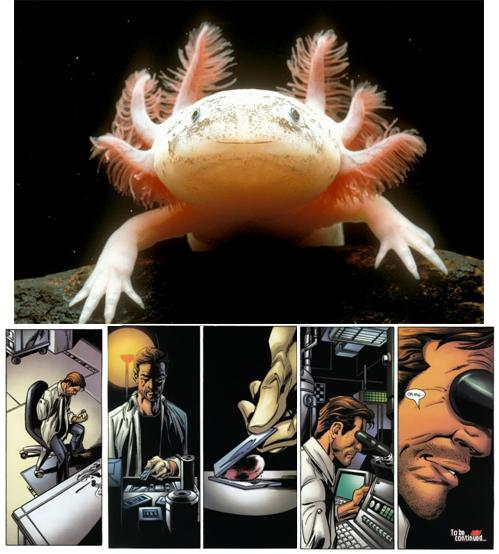 I read a recent news about "The secret to running repairs" and I remembered an older AA post about a hypothetical genetic biologist who researched the ability of certain reptiles to regrow missing limbs, partially to find a way to regrow his own missing arm.
Today, his noble research could be real thanks to a Mexican god. Yeah, the Axolotl, who according to the Aztec myth is a god transformed on a neotenic salamander with the hope that their ability to regenerate body parts will one day help people with amputations.
The Axolotl has become the amphibian prefered by many scientists around the world thanks to its capacity to regenerate both their hurt limbs as well as its jaw, skin, organs and even parts of the brain and the spinal cord. And to top things off, it doesn't get cancer.
Scientists believe that it will only take a decade or two before the dream of Curt Connors could became a reality: the human limbs could regenerate like the axolotl.
I'm very excited for this news that I believe I forgot the anoles for a little moment.