Late Breaking: one last Evolution 2017 post!  Last weekend during the Evolution meeting, I had a chance to chat with Iris Holmes (Ph.D. student, University of Michigan) about the poster she presented. Initially not on our watch list because of the lack of "anole" in the description, my eye caught the dewlapping lizard perched at the top of her poster from across the room.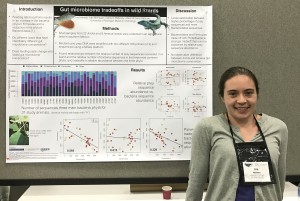 Iris presented her work on gut microbiomes of two groups of lizards: anoles and ameivas. She wanted to know if different taxa have different gut microbiomes and to what extent diet influences bacterial composition of gut microbiomes. Her collaborator (Ivan Monagan) collected scat samples from 22 Anolis dollfusianus and 9 Ameiva from an agricultural area in the Soconosco region of Chiapas, Mexico. Together, they then sequenced both the gut bacteria and the digesting prey with two 16S primers. Iris chose to target the prey as well because she wanted to know if they were eating different things and how different stages of digestion influence gut bacteria communities.
Iris found that there were no clear differences between the gut microbiomes of anoles and ameivas. Both species had gut microbiomes dominated by three main phyla: Proteobacteria, Firmicutes, and Bacteroidetes. Little is currently known about how these bacteria relate to digestion and health in reptiles, but Iris commented that we can make some guesses based on studies in other taxa. Proteobacteria are a disease indicator in mammals, but appear to be normal in reptiles and birds. Firmicutes and Bacteroidetes are both important for digestion of carbohydrates and fats (respectively) in mammals. Iris found that there was a loose correlation between the amount of prey consumed and the abundance of Bacteroidetes, suggesting these bacteria also play a role in digestion in lizards. She also found that there was an apparent tradeoff between the Proteobacteria and the two other groups – sequence abundance of proteobacteria was negatively correlated with abundance of Bacteroidetes and Firmicutes. Overall, this is an interesting first step in understanding the gut microbiomes of reptiles and how they differ (or don't) between groups.