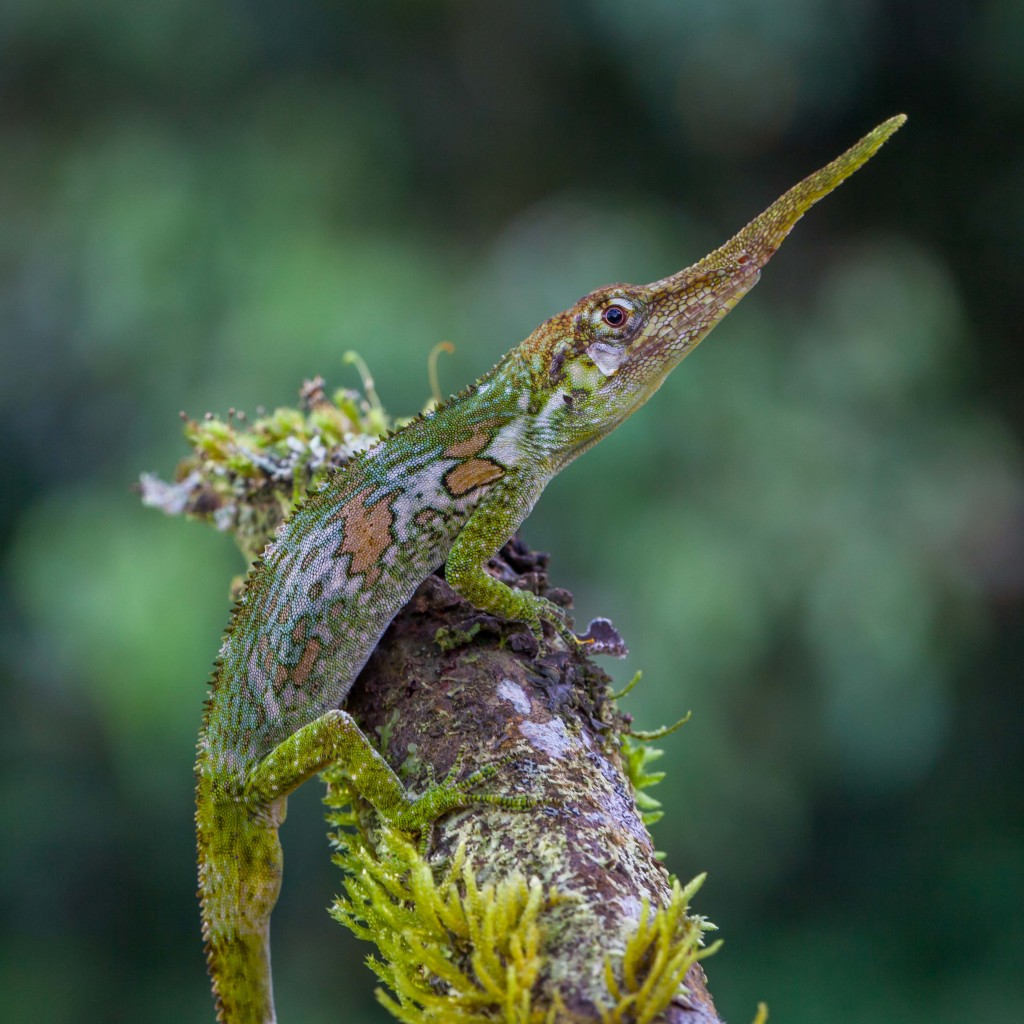 If you work on Anolis lizards, there's a good chance you've been asked about the recent rediscovery of the long-thought-to-be-extinct "Pinocchio Anole" within the last week. As Anole Annals reported on October 7, this story has hit the big time. After being featured on the Huffington Post, the tale of this rediscovery went viral, receiving extensive news coverage worldwide.
The catch, as most Anole Annals readers are doubtless aware, is that the Pinocchio Anole wasn't just recently rediscovered. It was rediscovered in 2005, and has since been the subject of field studies resulting in no fewer than five published works (six if you count "Finding Anolis proboscis," Steve Poe's 2010 Anolis Newsletter article about finding Anolis proboscis).
What gives? How can the central claim of such a major scientific news item be fundamentally incorrect?
I propose the following hypothesis: This story evolved to its current state by good old-fashioned natural selection. I think that an initially accurate web story was repeatedly and imperfectly replicated, and that as the story was picked up by increasingly larger news outlets, important details were lost or altered during transcription (perhaps selectively, since discovery makes good copy), resulting in the evolution of an incorrect news item.
If I have things right (it's possible I don't know all the details), the story started with an informational advertisement from the ecotourism company Destination Ecuador.
If you read that article, it's pretty accurate with the potential exception of a single use of the word "re-discovery" to describe the event during which the Tropical Herping team found Anolis proboscis. The use of that word is admittedly a little strange and perhaps a bit unwise, but the article makes it very clear that the actual rediscovery of the species took place in 2005, and describes a successful scientific expedition to study the species in the wild in 2010. To me the point of this article is "with our ecotourism company, you can have a chance to travel with experts to see a weird, rare, recently-rediscovered lizard species."
Next comes an article by Douglas Main on livescience.com, which appears to be the original source of the viral news item. If you read the LiveScience article, it's worded in a way that tells a narrative of very recent rediscovery (which is not really true) without ever explicitly stating it. Continue reading The "Rediscovery" Of Anolis Proboscis, And The Evolution Of A Viral Internet News Story →