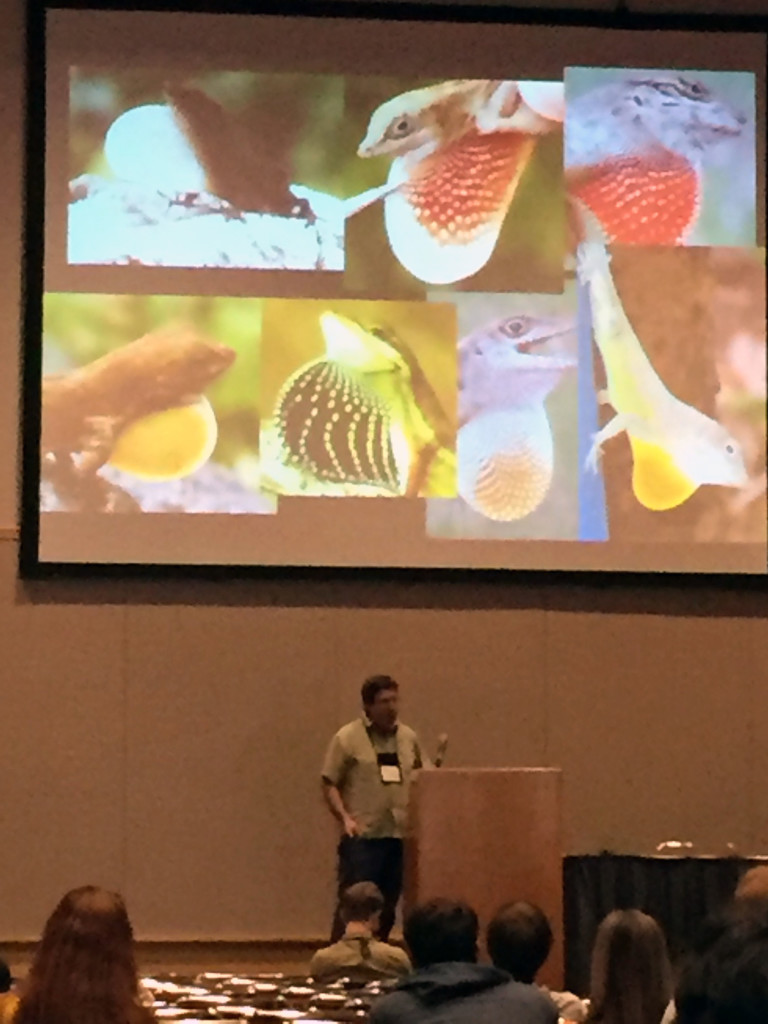 The Sensory Drive hypothesis predicts that species will evolve communication signals that are effective in the particular light environment in which they occur. Anolis lizards are an excellent example: in dark habitats, they tend to have light-colored, highly reflective (and transmissive) dewlaps that are usually yellow or white in color, whereas in bright, open environs, dewlaps tend toward blue, black, orange or red. However, demonstrating that these dewlaps are actually effective at being visible in their particular habitats has proven surprisingly challenging.
Leo Fleishman has been a leader in this area and in a talk at the sensory ecology symposium at the evolution meetings, he presented new and exciting developments. First, in line with previous work, he showed that the spectral reflectance/transmittance of dewlaps is not particularly well-matched to that of the background. Rather, the same colored dewlaps appear to be maximally contrasting with the radiance of the background across all habitats:  basically all habitats have mostly green backgrounds, and red or orange stands out the best against the green background, no matter what the habitat.  So much for sensory drive, it would seem!
But more recent work saves the day: it turns out that habitats differ in the total intensity of light (number of photons coming down) they receive and that, furthermore, across species, dewlap intensity (total photons reflected and/or transmitted) is negatively related to habitat intensity (with one notable outlier, the enigmatic A. gundlachi). Under the relatively low light conditions of forest shade or partial shade, color discrimination becomes more difficult, and colors such as red and orange and other dark colors do not stand out well against the background, because they simply do not emit enough photons to efficiently drive color vision.  Yellow or white works better. Conversely, in intense light environments, there is enough light to easily see the darker colors, and these stand out well against the green background. Moreover, behavioral experiments confirm that in bright light conditions red stimuli are most visible against a green background, whereas in low light yellow stimuli are more visible.  Thus, even though most Anolis habitats have similar spectral properties, differences in total light intensity strongly influence what colors are most effective, and thus appear to have played a major role in the shaping the evolution of dewlap colors.