This past August, two field assistants and I went to Long Island, Bahamas to collect data on sympatric populations of Anolis sagrei and Anolis smaragdinus as part of a natural selection study. Our primary study area is a small island (approximately 1000 ft x 200 ft) in the middle of a lake with relatively high densities of both species. While in the field we observed some interesting behaviors that I want to share with the AA community in hopes that you will find them interesting as well!
1) Frugivory by anoles was common at our study site, which had an abundant supply of small berries from black torch (Ertihalis fruticosa) and small-leaved blolly (Guapira discolor).  Anolis smaragdinus was usually the culprit, although we did we did see one adult male A. sagrei eating fruit.
2) We captured (and released) over 150 unique A. smaragdinus and later re-spotted several of those individuals. During a typical eight-hour day, we encountered 15-20 individuals, a surprisingly large portion of which were a male and a female in the same tree. These instances made a particularly strong impression on me when they were separated by long periods of not seeing any A. smaragdinus. I can think of multiple occasions in which we found a couple together, saw no individuals for another three hours, and then suddenly came across another couple. In several instances, there were three individuals in the same tree. I'm not aware of green anoles mate guarding, and unfortunately the data I have don't have the resolution to provide much insight here, but the pattern was definitely striking.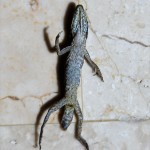 3) We observed an act of cannibalism in A.smaragdinus, a species for which cannibalism has not previously been reported (although it has reported for the closely related A. carolinensis). We captured an adult female, saw that she was eating something, and proceeded to lose our marbles after pulling a hatchling (pictured) out of her mouth. Acts of cannibalism by female anoles appear to be rather uncommon (see page 30 of this Anolis newsletter), making this observation perhaps the most intriguing of our adventure!