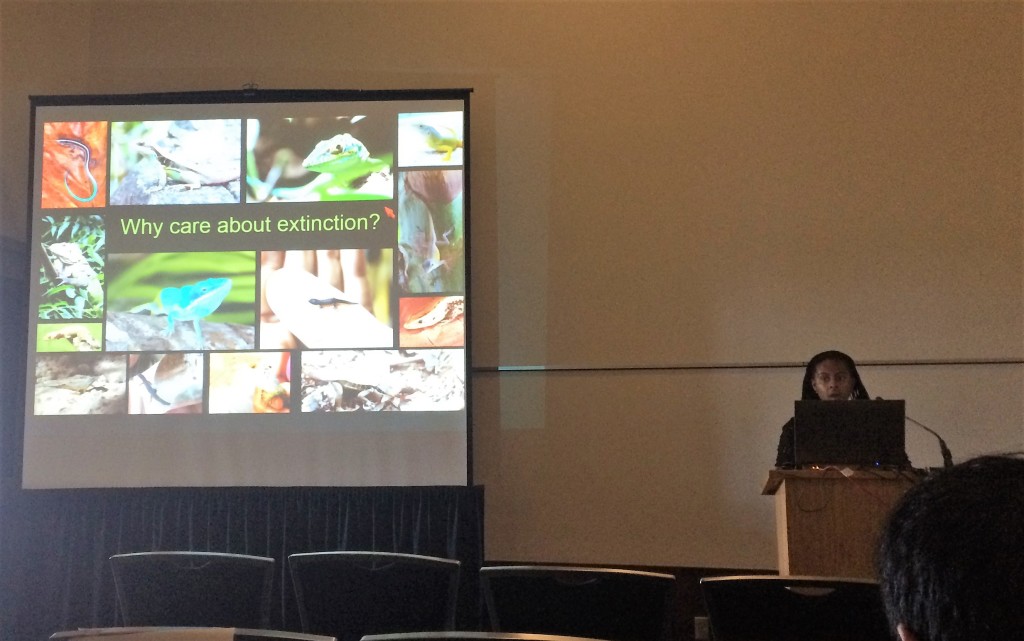 Researchers that are interested in ecological and evolutionary dynamics through time often make inferences about past patterns and processes using modern data, such as DNA sequences and geographic distributions of extant taxa. But this is not the only possible approach. Studies of extinct taxa and populations using fossils can provide direct measures of species distributions and abundances in the past, which are often impossible to accurately infer with modern data alone.
In her talk titled "Extinction biases and their ramifications on Caribbean lizard communities," Melissa Kemp described her research using fossil data to characterize the former herpetofaunal community of several islands in the Caribbean. She explored the following questions linking extinction to community ecology: 1) how has extinction proceeded in the Caribbean lizard community? 2) what is the impact of species extinction on the whole community? 3) can we predict future patterns of extinction using fossil data?
To characterize past extinction patterns, Kemp measured species abundance and morphological traits of fossil remains through time in lizard communities in the Caribbean. She sought to determine whether certain taxa underwent more local extinctions, and whether extinctions were correlated with certain morphological traits. She also quantified community evenness to see how extinction events affect the whole lizard community. She found that one family, the Leiocephalidae, has gone extinct more often than others. Interestingly, in a four-species community in which Leiocephalidae went extinct, anoles went from relatively average abundance to becoming the dominant taxa, a pattern which continues to this day. Modern Leiocephalids have been shown to predate on anoles, so this community shift may have been a result of predator release. In addition, anole body sizes increased after Leiocephalid extinction, lending further support to the predator release conclusion.
After looking at historical patterns of extinction and diversity, Kemp explored whether fossil data might give us insight into current and future patterns of extinction. For example, are species that have gone extinct in some areas vulnerable to extinction in other parts of their range? And if so, what traits are causing this vulnerability? To address these questions, Kemp compared traits of extinct taxa to traits of modern successful introduced species,  which are likely to have a very low risk of extinction. She found that extinct species tend to have different reproductive modes and habitats from introduced species, suggesting that these traits may have played a role in their extinctions. In addition, modern species with similar suites of traits as the extinct taxa may be more vulnerable to extinction in the future.
Kemp's research shows that it's not always best to leave the past behind. Fossil data enhances our understanding not only of extinct species, but of modern ecological and evolutionary processes as well.