A few days ago, I had a very interesting discussion in twitter with some colleagues (see here [1] and here [2]) about whether there is a decline and crisis of new taxonomists in amphibians and reptiles. I wonder if this situation might be the case fir Anolis lizards, or whether Anolis has its own tendency in species description. So, I decided to take the bull by the horns and I went to the Uetz Reptilia Database to see the numbers.
First, it seems that there is not an increase in species description for anoles across time. In early years, it was a bunch of new descriptions as also recently (Fig 1).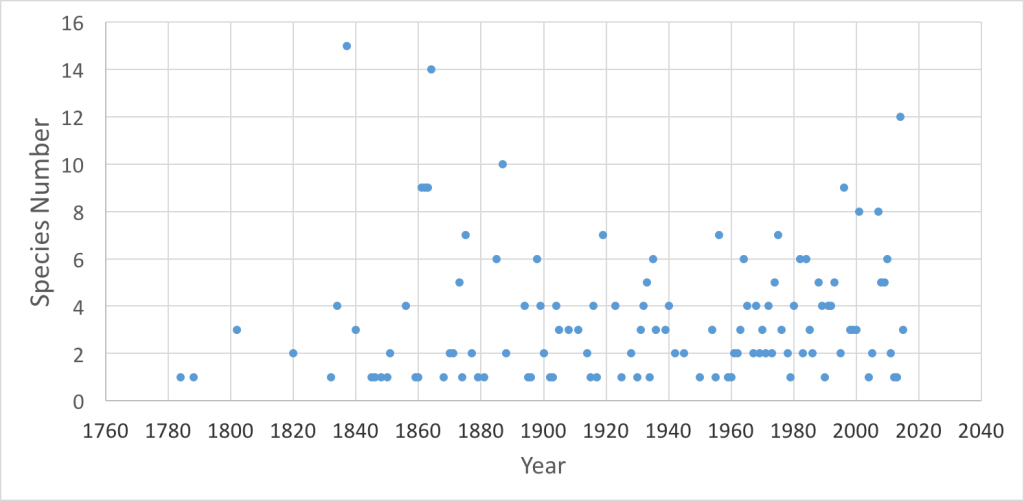 However, if you check how many anole taxonomists have described species, an interesting pattern emerges. Very few people have described almost all of anole diversity (Table 1). Only 15 anologists have described all currently known species (400 according to the Uetz database), and more interesting is the fact that only five of them are still alive! (Gunther Köhler, Orlando Garrido, James McCraine, Steven Poe and Larry Wilson; Table 1).
Then, to establish if new authors (new anole taxonomists) are emerging in recent times, I made an accumulation curve of authors across years of description (Fig. 2). I considered only the senior author (Fig. 2, top) and all authors involved in the description  (Fig. 2, bottom). From these figures, it is possible to see, apparently, that very few new authors are emerging as anole taxonomist specialists.
This suggests, at least to me, that something is happening in anole taxonomy. As we discussed in twitter, this scarcity in taxonomists in recent times could be due to several factors: lack of interest in describing new forms, lack of funding resources, lack of access to comparative material (i.e., herpetological collections), lack of writing skills to generate scientific papers, or lack of adequate taxonomic training. In any case, I feel that anole taxonomy would be in crisis if new people, mostly from Latin America, are not interested in describing and revising new species in each country. But, why are very few people seem to be interested in describing new valid species nowadays? Is it perhaps that taxonomy is a discipline with little interest in academia? Does doing so serve to get a job? Is it not worth publishing papers in taxonomy or even describing new forms?
Although today there are a bunch of journals oriented to taxonomy and many online resources to access to primary literature (Sci-Hub [3], BHL[4], etc.), it seems that very few people are interested to tackle these problems in our iconic lizards.
I would like to see your opinions on this
References
[1] https://twitter.com/CrawfordAJ/status/713398834005561344
[2] https://twitter.com/CrawfordAJ/status/713459231983280130
[3] https://en.wikipedia.org/wiki/Sci-Hub