The Neotropical and Oriental realms both were once a part of Gondwanaland. Interestingly, both of these realms exhibit same 'type' of lineages occupying equivalent niches. Boas dominate the Neotropical zone whereas pythons flourish in the Oriental. Similarly, in the Old World (or Oriental or Indo-Malayan realm), there are lizards belonging to family Agamidae which exhibit uncanny parallels to Anolis sp. in their natural history.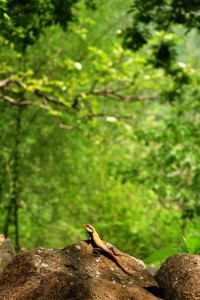 One example is from Yelagiri Hills in the Eastern Ghats region of the Indian state of Tamil Nadu. This is Psammophilus dorsalis. During the breeding season, males of this species turn their drab and dull dorsal region to bright yellow or red to impress conspecific females. The brighter the male, the more chance he has to win over females. Males display such behavior for the entire day; at night these lizards hide under rocks.
When equally bright males encounter each other, competition is settled by 'ducking' heads and throwing off the opponent from the rock.