As part of our saga chasing Anolis sagrei around the Caribbean, we had the incredible fortune to visit the remote Conception Island Bank in the Bahamas. Conception Island and its associated small satellites are situated on their own bank, adjacent to Long Island which occupies a southeastern edge of the Great Bahamas Bank. Conception Bank and all its satellite islets are protected by the Bahamas National Trust as a National Park, and the bank is presently uninhabited though there is some history of human habitation in the past. Conception Island is quite small, totaling only 9 km by 2 km and has never been connected to any other island banks, meaning that the plants and animals here have almost certainly arrived via dispersal. Though located only 25 km ENE from the northern tip of Long Island, the 2400 m deep water and strong NW currents mean that the Conception Bank has a relatively depauperate terrestrial fauna owing to the vicissitudes of over-water dispersal. For example, in the latest comprehensive list of island herpetofaunal records, Long Island boasts 16 native extant species of reptiles and amphibians, relative to just five on the Conception Bank. Granted, this is potentially owing to lower sampling effort on Conception, as it is a remote, difficult, and expensive place to conduct extensive surveys. Indeed at least one record, that of the Bahamas Boa Chilabothrus strigilatus, is poorly documented and probably spurious.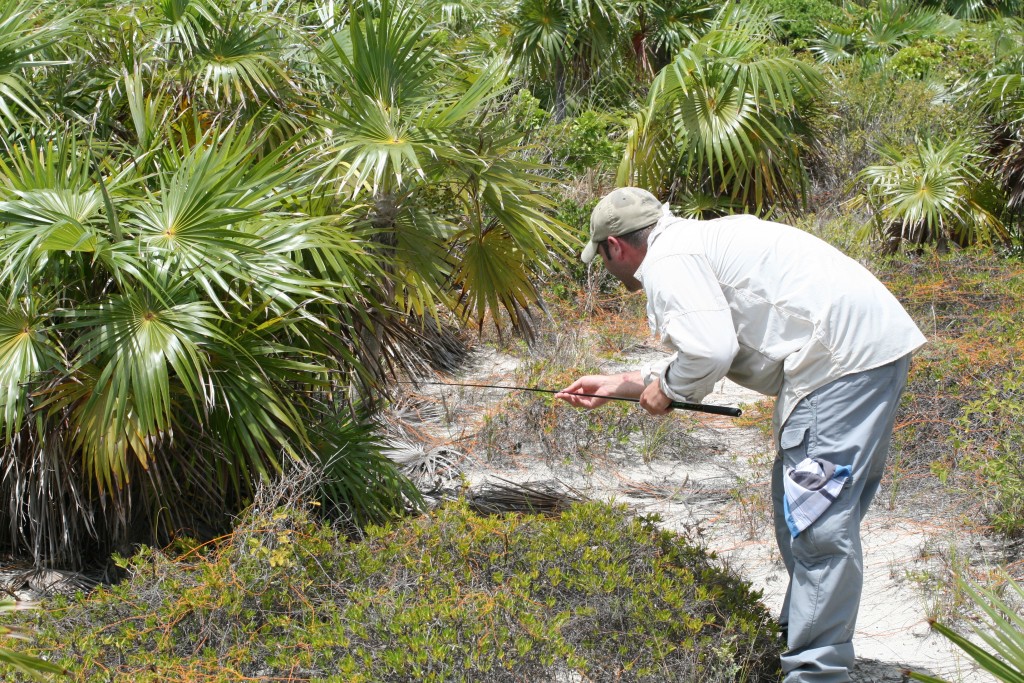 Alberto Puente-Rolon (UIPR-Arecibo), Anthony Geneva (Glor/Losos labs), Nick Herrmann (Losos Lab), and Kevin Aviles-Rodriguez (Kolbe/Revell labs) traveled with me to the Conception Bank aboard the Golden Bear out of Stella Maris, Long Island for two days in July 2015. Our goal was to sample Anolis sagrei from the bank, as well as generally conduct herpetofaunal surveys. We were particularly interested in verifying and attempting to build upon the last report of a herpetofaunal survey there (Franz and
Buckner 1998). While we expected Anolis sagrei to be present (it was), we also thought that the lack of a record for Anolis distichus might not stand up to our surveys. Alas, we checked multiple habitat types both day and night, from beach scrub to mature forests to mangroves and failed to turn up A. distichus. Though present on nearby Rum and San Salvador Banks (as well as Long Island), this species is curiously apparently absent from Conception.
Happily, we did find Anolis sagrei in abundance, and with some unusual features to boot. For one, the largest males are really quite large, tipping the scales at over 7 grams. Many males sported tall tail crests, and in the coastal scrub habitat, their yellowish dewlaps, combined with large size and tail crests, gave them an overall appearance very similar to Puerto Rican Crested Anoles (A. cristatellus). Interestingly, dewlaps in the forest appeared more traditionally sagrei-red, so we will see what our spectrometer and photographic data tell us about dewlap color variation on the bank. We will continue to update AA on our work with A. sagrei in the Bahamas.