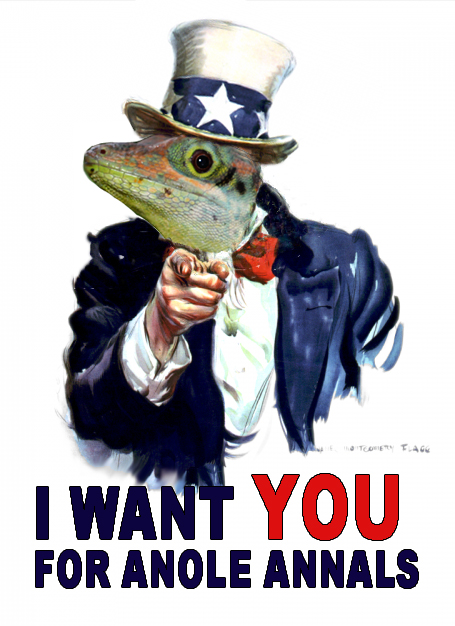 The goal of Anole Annals is to be the clearinghouse for all things Anolis, the place that the anole community turns to for the exchange of information or ideas. To do so, we welcome–no, heartily encourage–contributions from anyone and everyone.
Who can post? Anyone who has something to say about the biology, natural history, or amazing-ness of anoles (well, within reason–we leave anole husbandry and sales issues to other websites). And fear not–you'll have an audience. Anole Annals is now routinely visited by 600-1000 readers a day. That sounds like a broader impact to me!
Anole Annals is a good place to let the anole community know what you're working on, like Ambika Kamath's recent overview of her fascinating work on anole social behavior. And, it's a great way to spread word of your recently published work–why not provide a short precis or tell the backstory of how the paper came to be, like Liam Revell recently did? It's a great way of giving people the short story of what you've done and get them interested in reading the whole paper.
If you are fortunate to live in an anole-inhabited region, tell us about your local species, like David Alfonso's recent post on the anoles of Colombia. And if you've observed something unusual, here's a good place to report it, like Graham Reynolds note on twig anoles using mangroves.
And it's just a great place to ask a question, post a photo, or report an observation. Plus, announcements of relevant conferences or personal milestones, such as newly-minted Ph.D.s, are always appropriate.
Posting is easy, and really doesn't take much time. More than 100 scientists and anole enthusiasts have written posts–you should too! And if you've done so before, you're overdue for another one. Don't overthink it–just post today!