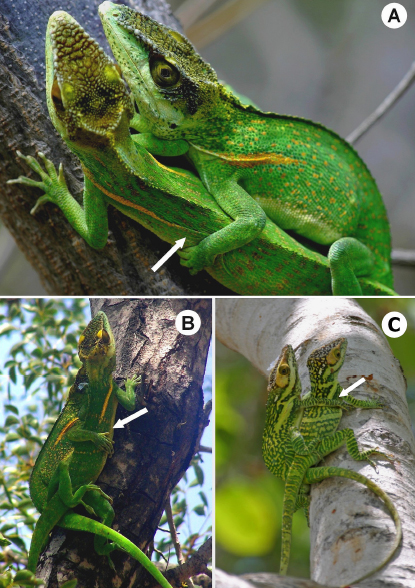 Despite the intense study of all things anoles for several decades, some aspects of their natural history are not all that well known. For example, the mating behavior of most species has not been described, and egg-laying behavior has been documented for only a few species.
In the most recent issue of IRCF Amphibians & Reptiles, Alfonso et al. take a small step to remedy this situation by describing these behaviors in the Cuban crown-giant anole, A. smallwoodi. The mating observations are from a year's fieldwork by the senior author, whereas the observations of egg-laying are from the captive husbandry efforts of second author Veronika Holanova.
I was particularly interested in the description of how gravid females come down to the ground and poke around with their snouts until they find just the right spot, at which point they dig a hole with their snout, lay the egg, and then cover it up by pushing soil over it with their snout and forelegs.