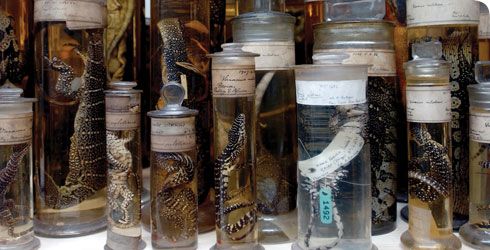 It's common wisdom that formalin-preserved samples can't be DNA sequenced because formalin degrades DNA beyond use . However, a paper recently appeared in Genome Research, describing successful whole genome sequencing of formalin-prepared samples.
If it is possible to sequence DNA from formalin-fixed specimens, then that opens up a world of genetic studies through space and time using museum specimens.
However, the samples in the Genome Research paper, besides being formalin fixed, were also paraffin-embedded, and probably deep-frozen, as they were cancer research archival samples. Paraffin embedding and deep-freezing may also be required for successful sequencing of formalin fixed samples. Thus, perhaps the method won't work for samples stored for 75 years at room temperature.
I don't have the expertise to say. Any of our more molecularly savvy readers care to venture?
If there is any DNA left behind, say after a short formalin fix followed by ethanol storage, then DNA sequencing of formalin-preserved samples should be the equivalent of ancient DNA approaches, no?
CITATION: Scheinin, Ilari et al. 2014. DNA copy number analysis of fresh and formalin-fixed specimens by shallow whole-genome sequencing with identification and exclusion of problematic regions in the genome assembly. Genome Research 24: 2022-2032. doi: 10.1101/gr.175141.1