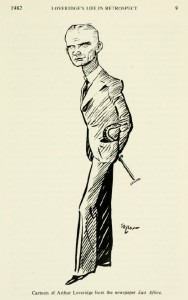 Arthur Loveridge was one of the great scholars of African herpetology, and a fascinating individual, curator of the Museum of Comparative Zoology for 33 years. AA has recently come across a pdf of his obituary written by Ernest Williams, who succeeded him at the MCZ.
The obituary is fascinating not only because it details the career of an important, yet quirky, individual in our field, but also marks how the profession of museum curator has changed markedly from the days in which curators were wealthy amateurs, popping around to satisfy their curiosity. Of course, I'm sure Loveridge's sentiments would find happy agreement today: "Probably only a zoologist can look at an uncaught cobra and feel the joy a child feels on Christmas morning."
The paper's worth reading for the various stories about the "Demon Curator," including the drawer labelled "string too short to use" and the famous footnote in the 1957 Loveridge and Williams turtle monograph.