Four years ago, we reported on the distribution of the Puerto Rican crested anole all along the Caribbean coast of Costa Rica. We also found the species inland, as far west as Turrialba and Siquerres, but not Guapiles (see map to right). A year later, we returned for a quick follow-up as part of a herpetology course spring break trip to Costa Rica. The weather wasn't great and we failed to find cresteds in any place not previously reported; however, observations of brown basilisks, another sun-loving species, suggested that the weather was suitable enough, and that perhaps the absence of the anoles was real.
Two years later, this past March, another herpetology class trip ensued, and so another expedition was launched to Guapiles and environs. The team included AA correspondent Katie Boronow, an award-winning senior with expertise on A. cristatellus, and a sophomore in training for Miami field work this summer (more on them in posts to come).
And the results???
Success!!! (if you want to consider finding further expansion of an introduced species a positive outcome). After much poking about in the suburbs of Guapiles, where brown basilisks were abundant and anoles not to be seen, we came to the lovely stream running along the main road west out of town. And in this idyllic locality, we found not one, but three, crested anoles.
We then back-tracked west toward our base, the famed La Selva Field Station operated by the Organization of Tropical Studies. At the junction of two highways, where one can turn north toward the station or continue westward to the Pacific coast, there is a truck-stop and restaurant. We stopped, and sure enough, more crested anoles!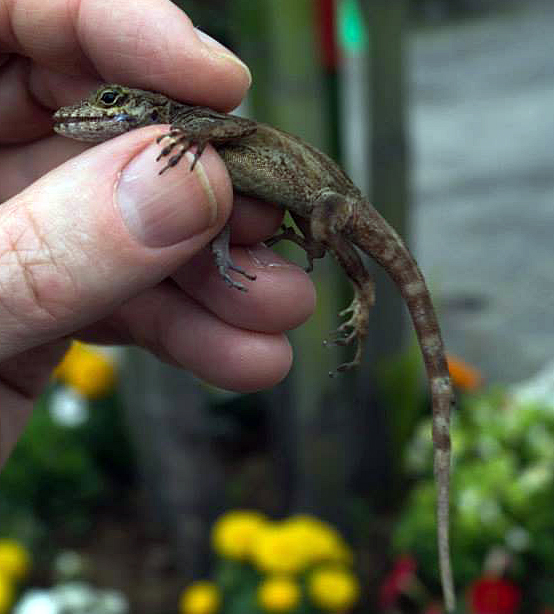 The map below shows the newest inland locality records (in blue), with older records (dull orange). Note that the species is now a short highway ride (ca. 30 km) to the vicinity of the La Selva station. I wonder how long it will be before it gets there.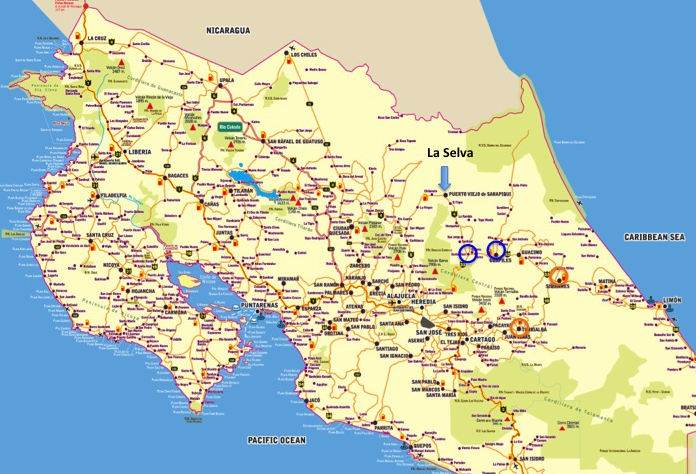 The cristatellus expedition team, hard at work: