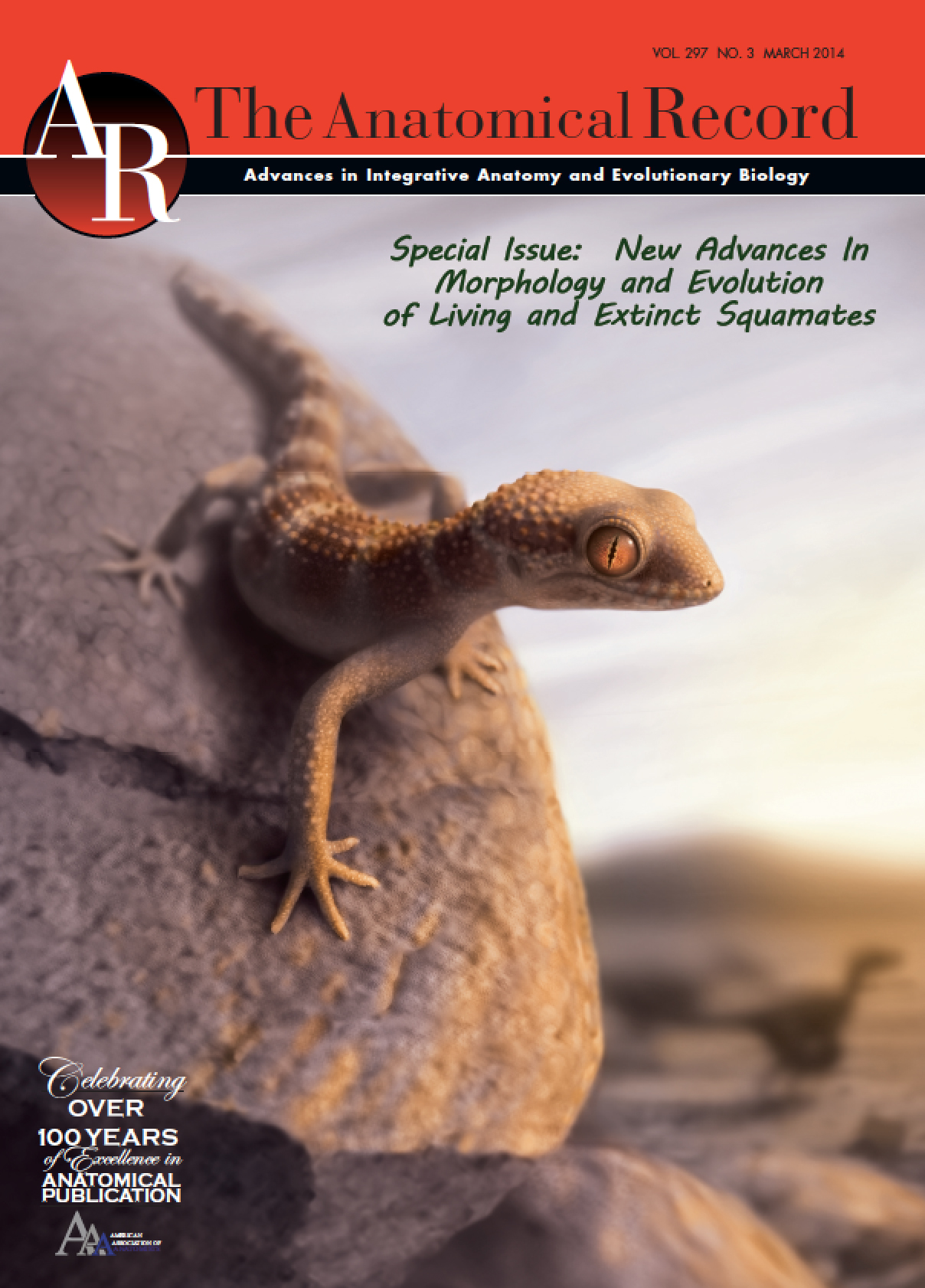 Juan Daza asks: Can you identify this lizard?
He continues:
If you have no idea, it's not because it's not an Anolis; in fact, this is an imaginary lizard that was reconstructed based on the remains of a 110 my old fossil from the Gobi Desert and a mosaic of features from different living geckos such as Agamura persica, Pachydactylus rangei, Teratoscincus przewalskii, Hemidactylus turcicus, and Coleonyx variegatus (and check the dromeosaurids roosting at twilight).  This digital illustration drawn by Stephanie Abramowicz is the cover of a March Special Issue from the Anatomical Record: New Advances In Morphology and Evolution of Living and Extinct Squamates [freely available at: http://onlinelibrary.wiley.com/doi/10.1002/ar.v297.3/issuetoc].
The idea of a volume like this started with James D. Gardner and Randall L. Nydam. They wanted to put a collection of papers from the Paleo-session of the past World Congress in Vancouver. Instead, they ended up editing another multi-authored volume entitled: Mesozoic and Cenozoic lissamphibian and squamate assemblages of Laurasia (Palaeobiodiversity and Palaeoenvironments, 93(4), Special Issue).
This volume took a different approach, and we (Scott Miller and I) put together herpetologists and paleontologists from around the world in a volume to present new ideas about morphology and evolution of squamates. This volume is a collection of 18 papers about paleontology, functional morphology, and gross anatomy of lizards and snakes, and includes recent findings from researches from 12 countries (USA, Canada, Colombia, Brazil, Argentina, Spain, France, Italy, Germany, Slovakia, South Africa, and New Zealand).
So please feel free to browse this volume that includes original research papers about the fossil record of lizards and snakes, anatomy of the chameleon's atlantoaxial complex, pedal grasping capabilities, and pectoral girdle anatomy of anoles, fossil record of the Gekkota, cranial joints of squamates, hemipeneal morphology, brille formation, cranial joints, ancestral morphology and niche modeling of rhineurids, Anguimorpha, and the jaw musculature, and gut morphology of snakes. I hope you find this stimulating and pick morphology today, for a change.
Table of Contents:
The Anatomical Record is Alive With Leapin' Lizards and Slitherin' Snakes (pages 337–340)
Kurt H. Albertine and Scott C. Miller
What's So Special About Squamates? (pages 341–343)
Juan D. Daza and Scott C. Miller
Not Enough Skeletons in the Closet: Collections-Based Anatomical Research in an Age of Conservation Conscience (pages 344–348)
Christopher J. Bell and Jim I. Mead
An Overview of the South American Fossil Squamates (pages 349–368)
Adriana María Albino and Santiago Brizuela
The Atlas-Axis Complex in Chamaeleonids (Squamata: Chamaeleonidae), with Description of a New Anatomical Structure of the Skull (pages 369–396)
Andrej Čerňanský, Renaud Boistel, Vincent Fernandez, Paul Tafforeau, Le Noir Nicolas and Anthony Herrel
Anatomy of the Crus and Pes of Neotropical Iguanian Lizards in Relation to Habitat use and Digitally Based Grasping Capabilities (pages 397–409)
Virginia Abdala, María José Tulli, Anthony P. Russell, George L. Powell and Félix B. Cruz
Geometric Morphometric Analysis of the Breast-Shoulder Apparatus of Lizards: A Test Case Using Jamaican Anoles (Squamata: Dactyloidae) (pages 410–432)
Alexander Tinius and Anthony Patrick Russell
On the Fossil Record of the Gekkota (pages 433–462)
Juan D. Daza, Aaron M. Bauer and Eric D. Snively
To Move or Not to Move: Cranial Joints in European Gekkotans and Lacertids, an Osteological and Histological Perspective (pages 463–472)
Marcello Mezzasalma, Nicola Maio and Fabio Maria Guarino
Relict Endemism of Extant Rhineuridae (Amphisbaenia): Testing for Phylogenetic Niche Conservatism in the Fossil Record (pages 473–481)
Christy A. Hipsley and Johannes Müller
Are Hemipenial Spines Related to Limb Reduction? A Spiny Discussion Focused on Gymnophthalmid Lizards (Squamata: Gymnophthalmidae) (pages 482–495)
Pedro M. Sales Nunes, Felipe F. Curcio, Juliana G. Roscito and Miguel T. Rodrigues
Through the Looking Glass: The Spectacle in Gymnophthalmid Lizards (pages 496–504)Ricardo Arturo Guerra-Fuentes, Juliana G. Roscito, Pedro M. Sales Nunes, Priscilla Rachel Oliveira-Bastos, Marta Maria Antoniazzi, Jared Carlos and Miguel Trefaut Rodrigues
A New Miniaturized Lizard From the Late Eocene of France and Spain (pages 505–515)
Arnau Bolet and Marc Augé
Comparative Anatomy of the Lower Jaw and Dentition of Pseudopus apodus and the Interrelationships of Species of Subfamily Anguinae (Anguimorpha, Anguidae) (pages 516–544)
Jozef Klembara, Miroslav Hain and Karolína Dobiašová
Unusual Soft-Tissue Preservation of a Crocodile Lizard (Squamata, Shinisauria) From the Green River Formation (Eocene) and Shinisaur Relationships (pages 545–559)
Jack L. Conrad, Jason J. Head and Matthew T. Carrano
Postnatal Development of the Skull of Dinilysia patagonica (Squamata-Stem Serpentes) (pages 560–573)
Agustín Scanferla and Bhart-Anjan S. Bhullar
Article
Homology of the Jaw Muscles in Lizards and Snakes—A Solution from a Comparative Gnathostome Approach (pages 574–585)
Peter Johnston
A Model of the Anterior Esophagus in Snakes, with Functional and Developmental Implications (pages 586–598)
David Cundall, Cassandra Tuttman and Matthew Close