Hi Everyone, a quick post to see if anyone out there is interested in contributing to a large ongoing project on Anolis sagrei. We are sampling this species throughout the (mostly) native range, and currently have 77 sampling locations represented. However, we are wondering if anyone would be able to help us fill some remaining gaps.
We are interested in adding additional tissue samples from Central America and the Bahamas. Here is an approximate range map with some desired localities (in blue):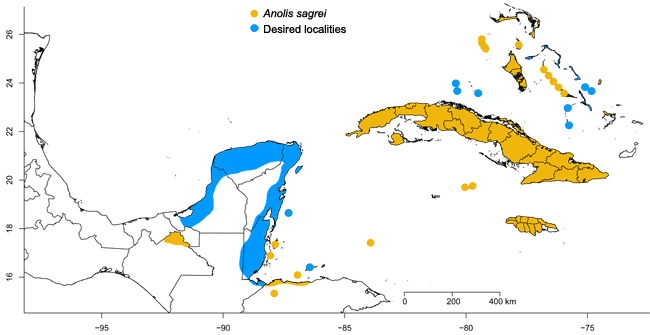 Any help is greatly appreciated. I realize that collecting tissues (not to mention all the paperwork) is not a trivial task, so if you are interested in contributing samples please get in touch with me. We will keep AA posted on this project!