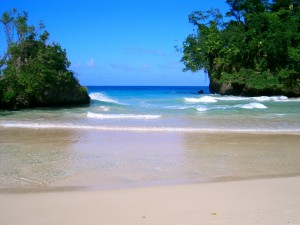 If you're anything like me, the first image you conjure in your mind when you hear the word Jamaica is a phylogenetic tree showing a monophyletic radiation of six Anolis species representing four ecomorph classes and one unique.
What, that's not what you thought of?
The anoles of Jamaica: Read all about them!
1) Anolis garmani is a crown-giant, although it's on the small end, if you ask me.
2) Anolis grahami is a trunk-crown and gram for gram one of the prettiest anoles out there.
3) Anolis lineatopus is a trunk-ground anole with a stunningly large cream colored dewlap.
4) Anolis opalinus is a smallish trunk-crown nicely found in a Blue Mountains coffee grove.
5) Anolis reconditus is a unique anole – very little known about it (but see).
6) Anolis valencienni is a twig anole, large and at high population densities for a twig.
7) (And yes, A. sagrei is there, but it's invaded from Cuba over historical time.)
And as always, check out Caribherp for a full list of the herps of Jamaica and the Caribbean!