In a previous post, I detailed the trip to Swan Island and our initial impressions. But now for the important stuff. The most abundant animals on the island were the anoles.  They could be found on the beach, in the forest, on the buildings, on the hammock where we napped in the hottest part of the afternoon.  This abundance was not immediately apparent, as the anoles seemed rather shy and tended to hide when I approached.  Yet, if I sat still for a few minutes, anoles would start descending from the treetops and soon there seemed to be an anole on every branch.
My immediate impression was that these anoles did not "feel" like typical A. sagrei.  They were light in coloration when calm, more like A. cristatellus than A. sagrei.  Their eyes were marked like A. sagrei, but they were larger and darker.  Females seemed similar in size to A. sagrei that I have seen elsewhere, but the males were (much) larger.  This pronounced sexual dimorphism is consistent with the pattern in the anoles of the Lesser Antilles, where sexual dimorphism is exaggerated on single-species islands.  Finally, the dewlap of the anoles on swan island were much darker than what I think of as typical A. sagrei dewlaps, and did not have the typical two distinctive colors, red and yellow, but graded from a lighter margin to a darker center gradually.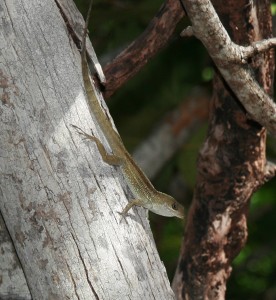 The anoles on Swan Island were also different from "typical" A. sagrei in their behavior.  My general impression was that they were more shy of people.  When threatened, they nearly always ran up into the canopy, rather than towards the ground or around their perch.  Males displayed their dewlaps relatively infrequently.  Finally, I observed them using a broad range of perches. Males especially used broad horizontal perches in the canopy of trees in addition to lower vertical perches.
Next Up: Big Surprises on Little Swan!