In the era of Big Data, we can ask questions that would have been inconceivable just a few years ago.  Consider the types of questions we can ask using Google's Ngram Viewer, which uses full-text searches of >4% of all books ever printed to characterize relative word or phrase usage over time (this approach was initially described in a 2011 Science paper about "Quantitative analysis of culture using millions of digitized books").
Among the most important questions one might ask with the Ngram Viewer is "What is the most written-about lizard genus?"  I did some preliminary scouting to assess the relative usage of some of the lizard genera that I guessed would be the most popular. I quickly narrowed my queries to the five taxa – Anolis, Sceloporus, Varanus, Lacerta, and Gekko – that I think give the most interesting graphs for discussion. I excluded other potentially popular genera from my queries for for a few reasons. Iguana is very popular, but I eliminated it because it is often used colloquially to refer to lizards that don't necessarily belong to the genus Iguana. Eumeces never appears as frequently as the other genera in my searches. Pogona is immensely popular as a pet, but usage of this genus name is still far below the others in my list.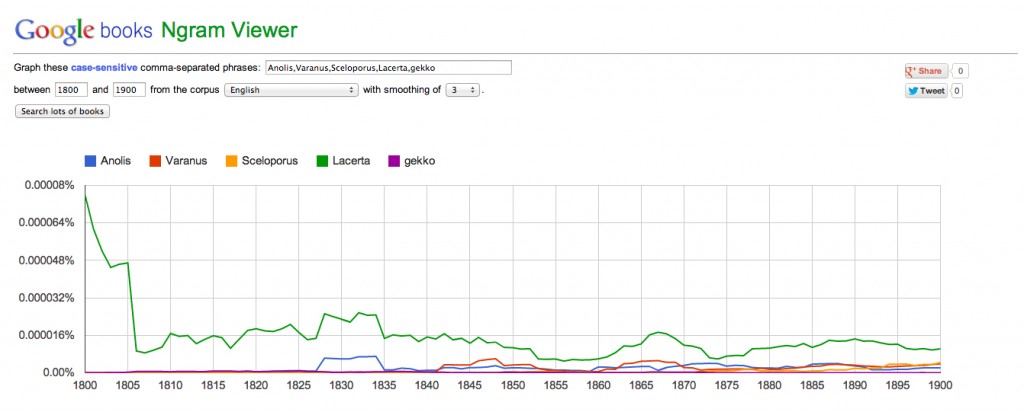 Lacerta jumps out to a big early lead and maintains a strong lead throughout the 19th century, thanks to its widespread use in Latin-language literature from the 19th century and countless books about the European fauna (Ngrams Viewer even provides links to the books or articles containing the phrase of interest!).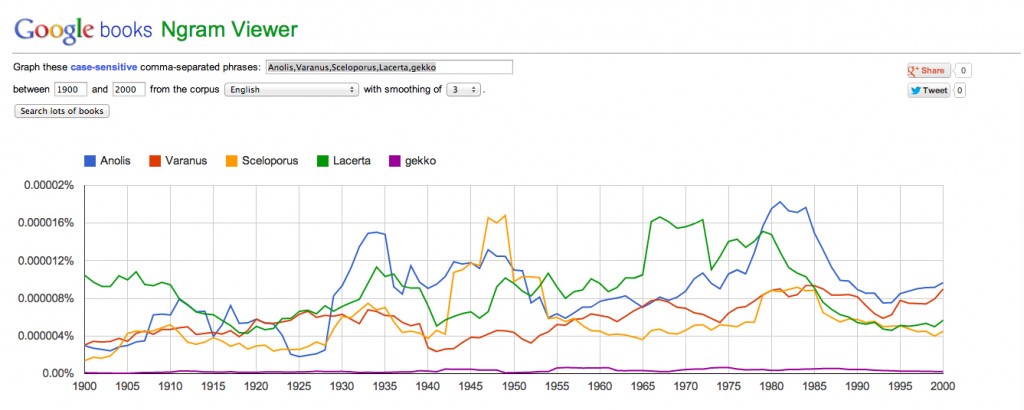 In the early 20th century, Anolis joins the competition as one of the most popular lizard genera, and opens up a sizeable lead by the 1980s that it maintains until the turn of the 20th century.  Although Anolis is briefly surpassed by Varanus in the 2000s, it nudges back into the lead by the end of 2008!

There you have it folks, quantitative proof of the popularity of Anolis!  Have I failed to consider some genera that might be competing with Anolis in the lizard genus popularity contest?