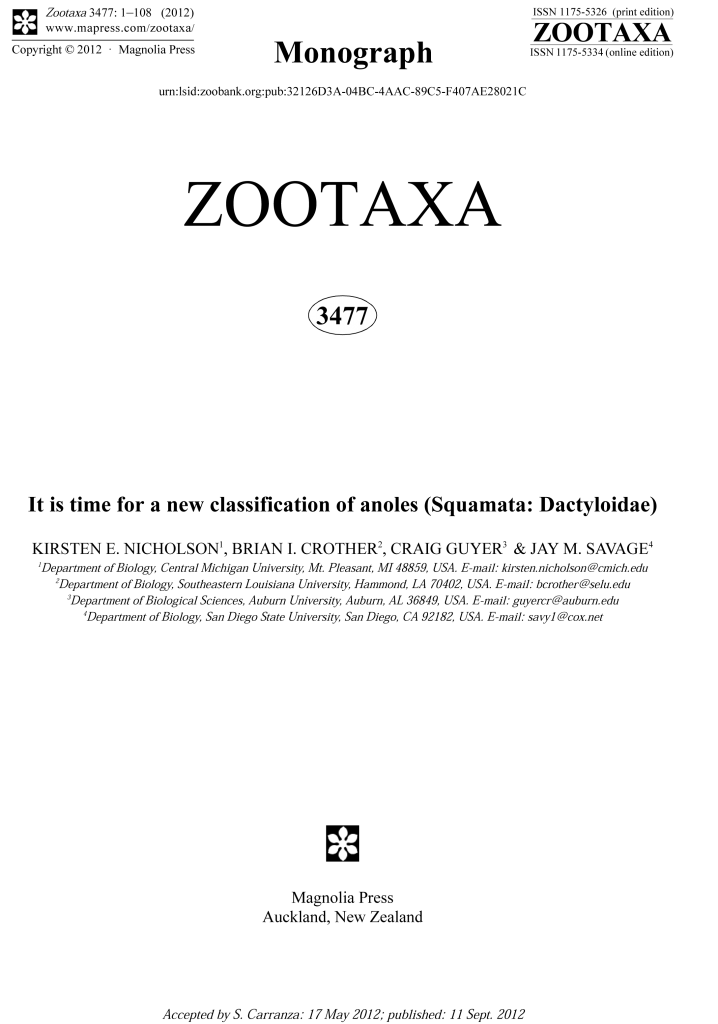 We've had a week now to let the proposed reclassification of Anolis sink it, so it's time to start discussing it. A revolutionary new view of the scientific review process suggests that in the future, all papers will be published open access online (as this one is–thanks Nicholson et al.), the journal in which it appears (if any) will not matter, and peer review and evaluation will be conducted post-publication on internet discussion sites. Realistic? Who knows, but why not give it a try?
The paper by Nicholson et al. is undoubtedly the most important paper on anoles to be published in the last several years. Not only does it propose to split Anolis into eight genera, but it also presents provocative findings about the ecological evolution of anoles (including throwing out the ecomorph concept), anole biogeography, and the dating of evolutionary events in anole history.
Anole Annals' goal is to be the meeting place for discussion of all things Anolis, so let's take this post-publication review and commentary idea out for a spin. Anole Annals invites members of the anole community to post their thoughts on any aspect of the Nicholson et al. paper. We hope to get a conversation going on the merits of splitting the genus, as well as the other issues raised in the paper. In fact, this has already begun, as evidenced by the comments by Mssrs. Crother, Hillis and Duellman, among others.
To get the ball rolling, here's a short précis of the paper:
1. Phylogenetic analysis based on previously published data of all sorts (genetic, morphological, karyological), with a smidgeon of new molecular data, reveals a phylogeny with eight strongly supported clades in a Bayesian analysis. These clades are recognized as distinct genera.
2. The ecomorph concept does not apply to mainland anoles because species similar in habitat use are not similar in morphology. Hence the term "ecomode" is coined for species similar in habitat use. Phylogenetic analysis of ecomode evolution on the phylogeny suggests that the crown-giant ecomode is ancestral for Anolis. The ecomorph concept is argued to not work for Greater Antillean anoles and should be discarded.
3. Biogeography is reconstructed on the phylogeny. Using the phylogeny, the authors argue that the eight clades differentiated about the time that the proto-antillean islands were passing between what is now North and South America. The Norops clade differentiated on several of these blocks (both island and mainland), explaining why Norops is nested within Caribbean non-Norops taxa without requiring the island-to-mainland colonization of Norops proposed by a number of previous papers.
4. Molecular clock dating reveals that anoles are surprisingly ancient, originating in South America approximately 130 million years ago.
Nicholson, K. E., B. I. Crother, C. Guyer, J. M. Savage (2012). It is time for a new classification of anoles (Squamata: Dactyloidae) Zootaxa, 3477, 1-108