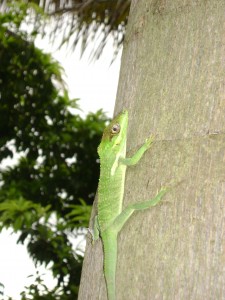 This young Anolis equestris was enjoying the recent bloom of a royal palm here in south Florida. After the freeze in 2010 there was a sharp decline in Anolis equestris (kill rate perhaps as high as 80%). The Iguana iguana population declined by 95% or more (so much for the "invasive invasion"). What has resulted from this die-off is that now I see many more of these young A. equestris. This particular specimen most likely hatched out last spring, there is also a smaller sized batch that must have hatched out in the fall. This staggered series of young animals is something I had not observed previously. Adult Anolis equestris (particularly the males) are notorious cannibals and young equestris are much slower and less agile than A. sagrei, A. porcatus, and A. distichus which often elude the sprinting attacks of equestris.
 There have been a number of citations of equestris eating birds and small rodents. Anolis equestris are opportunistic predators and will undoubtedly take fledglings if possible. I have seen mocking birds chase equestris from trees because they see them as threats, however, their fabled predatory exploits have been largely exaggerated. For nearly forty years I have made numerous field observations of A. equestris in south Florida. What I have found is that they spend their time much like their smaller anolis counterparts snapping up small arthropods. In fact, a fair proportion of their food intake isn't even animal matter; instead, it consists of plant matter, particularly when the various ficus species and palms are fruiting. They will also lick palm blooms for pollen and nectar as well as feed on fallen over ripe fruits such as mangoes, and sapodillas. Their impact on native species has also been overstated. With the exception of palmetto bugs (Eurycotis floridana) and a few other arthropods the vast majority of the equestris diet consists of non-native species (both plant and animal). One of their favorite foods on warm summer mornings are Cuban tree frogs (Osteopilus septentrionalis) as they return to their daytime hiding places. As the apex lizard predator, they will also eat all the other exotic anolis and gecko species. Equestris is also eaten by native predators like the gray squirrel (Sciurus carolinensis), black racers (Coluber constrictor priapus), and (at least in one observation) screech owls (Megascops asio), as well as numerous exotics like house cats and cattle egrets.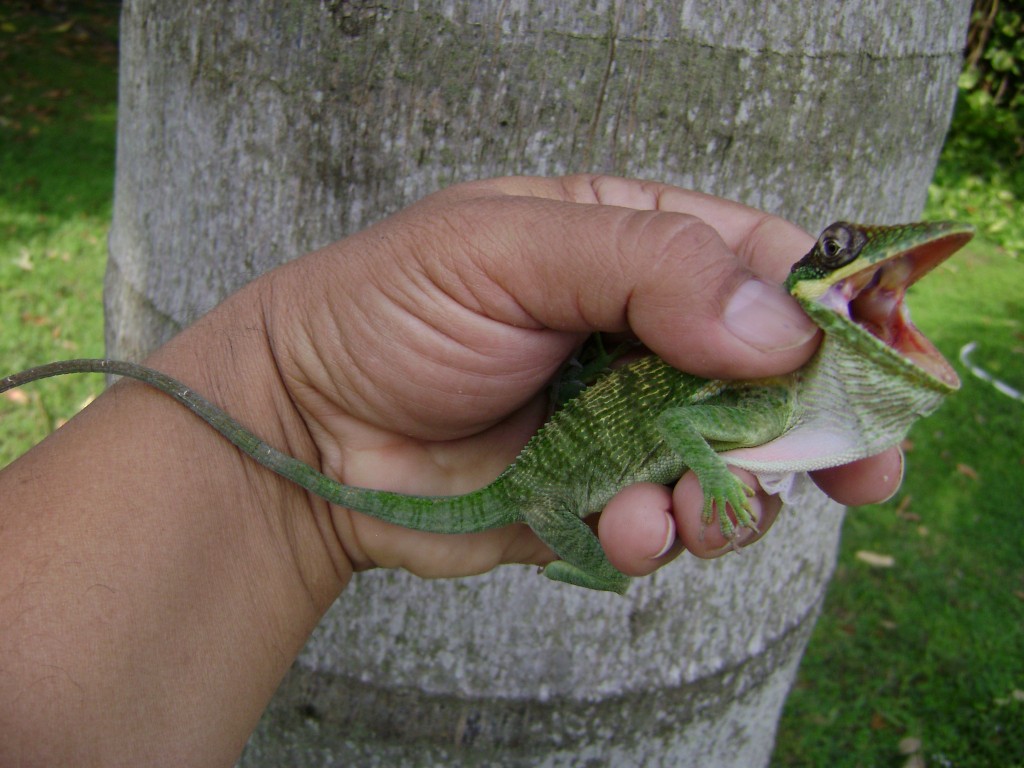 Although Anolis equestris exists in virtually all the counties in extreme southern Florida, they are predominantly an urban and suburban species living almost exclusively in disturbed habitats where they have carved out a nitch for themselves. I have never seen equestris in the heart of the Everglades or Big Cypress Swamp; they seem to depend on the complex biologically diverse food web that has been artificially created by human activity.
Anolis equestris mate throughout the rainy season in south Florida, beginning in late spring and ending in mid fall. Three to four weeks after mating, the females will excavate a shallow depression in the soil and leaf litter near the base of a tree where they will lay one or two eggs. She will repeat the laying process several times (often near the same location). The laying will usually occur during the early morning hours every six to eight days. The eggs will normally hatch out in 60 to 90 days depending on the temperature and weather. I suspect that many eggs survived the freeze in 2010 because the nightly freezing temperatures never lasted long during the daylight hours. When the population reaches its critical mass again in a few years, I suspect fewer and fewer young equestris will reach adulthood due to cannibalistic predation. Anolis equestris are long lived and are able to survive from 10 to 15 years in the wild. They grow quickly and are adult size (12"-13") in two to three years, but, if they stay healthy, they will continue to grow at a reduced rate for the remainder of their lives. Before the freeze I had examined a few 16-17" individuals.