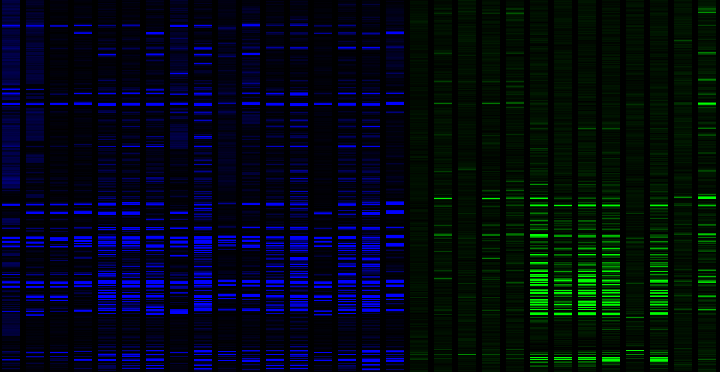 The core of my dissertation involves assessing genome-wide patterns of gene flow during anole speciation. For a variety of reasons, I ultimately want to acquire DNA sequences from throughout the genome.  As a first pass, however, I've been using Amplified Fragment Length Polumorphisms (AFLPs).  As a molecular technique, AFLPs are experiencing a comeback of sorts [1] [2].  Popular in the early 2000's, AFLPs went out of favor as Sanger sequencing became cheaper and easier.  The resurgence AFLPs has largely been due to the realization that evolutionary patterns often vary throughout genomes and therefore methods that survey as much of the genome as possible are preferable to those that look at one or a few regions.
Among genome-wide analyses, AFLPs stand out: they are cheap, can be collected quickly, do not require taxon specific development (as in microsatellites), and can be used in phylogenetic, population genetic and quantitative genetic studies.  Perhaps most importantly, they serve as a starting point for restriction associated DNA sequencing, a popular and useful way to use Next-Gen sequencing technologies to randomly sample homologous regions from multiple individuals.
I first used AFLPs to assess population structure in Diplodactylid geckos and I have adapted that protocol (that can be downloaded here) to our current work on anoles.  So far, we have performed analyses on the Webster and Burns reinforcement transect and across all distichus clade populations.  We've had great results so far. For instance, by comparing the results of an AFLP analysis of distichoids to an in silico AFLP analysis of the carolinensis genome we found that some of the unique characteristics to the A. carolinensis genome may be conserved in distichoids, despite a relatively old common ancestor.
AFLPs have inherent drawbacks: they are anonymous, dominant (you can't identify heterozygous loci), and homology can't be directly assessed.  Eventually, as genome sequencing becomes cheaper this technique will again fade into obscurity, but for now I find them to be a useful method to gain insight into genomic processes without having access to genome sequences.